Five Reasons You Must Attend Halloween Horror Nights
Being scared, screaming, running from monsters – it's all in the spirit of Universal Studios Halloween Horror Nights.
Blood, guts, zombies and demons – these are a few of our favorite things. More importantly, this is what nightmares are made of, and we love it. Horror fanatics, prepare to descend into Universal Studios Halloween Horror Nights, beginning Sept. 18 and ending on All Hallows' Eve.
Earning its reputation as one of the most terrifying live Halloween events in the City of Angels, Universal Studios brings you a devilishly good time. Having more than 80 years of making horror films under its belt, Universal Studios continues to make the Halloween festivities more and more terrifying every year.
If you're afraid of things that go bump in the night, you may want to sit this one out or at least make sure to bring a friend to use as a shield from the monstrosities lurking in the moonlight. Guests are able to take part in the all-new mazes featuring "The Walking Dead:" Wolves Not Far, This is the End – 3D, Crimson Peak: Maze of Madness, Insidious: Return to the Further and back by popular demand, AVP: Alien vs. Predator.
Honestly, no Halloween is complete without Michael Myers. Take a stroll through the new haunted attraction based on the classic film, Halloween: Michael Myers Comes Home. It spawned an entire genre of horror, surely, you can handle a little heart-stopping fear. After all, the Boogeyman isn't real, right?
But wait, there's more.
You know the film The Purge, where there's an annual 12-hour period in which all criminal activity, like murder, is legal? Well, Universal Studios has created Terror Tram: Survive the Purge. The Purge Party is a safe alternative to watch the chaos that occurs on large video screens set up around the famed Universal backlot. Enjoy! (The Terror Tram line closes at 11:15 p.m. on Thursday and Sunday, and 11:45 p.m. on Friday and Saturday.)
Of course, along with the spooky activities, you can always enjoy rides like Transformers – The Ride – 3D, Jurassic Park – In the Dark,and more. (Note: Fast & Furious – Supercharged is not going to be open during this time.)
There are also four new scare zones and a new live stage show for guests to enjoy. Here are a handful of reasons you would be crazy to miss Halloween Horror Nights:
5) New live stage show: If your lungs need a break from the bloodcurdling screaming, Jabbawockeez have you covered. The winners of Season One of "America's Next Big Dance Crew," make their debut at Universal Studios Hollywood for Halloween Horror Nights 2015. The new, high-energy show was created specifically for HHN.
4) New scare zones: Good luck trying to sleep ever again after you experience any of the scare zones. They include: Exterminatorz, where half human/half pests roam, Dark Christmas – which may or may not make you fear jolly, ol' Saint Nick – and Corpz, where corpses rise from the graves to haunt the living. Of course, you can't forget The Purge: Urban Nightmare. Unlike the Terror Tram, you aren't safe from being hunted.
3) Terror Tram: Let's be real, the idea of a purge is terrifying. Sure, there's probably a few people you wouldn't mind … Well, let's not go there. But, the concept itself is just chilling. We can only imagine the grisly scenes that are going to occur on the video screens.
2) "The Walking Dead:" Wolves Not Far: With Season 5 coming to AMC Oct. 11, we can't wait for this maze. The show gives us high anxiety, and it's likely we may lose our cool while trying to escape the horrors (SPOILER ALERT) of cannibalism in Terminus. Look, if Rick and the gang could survive, you probably can, too. Sure, you may not be as badass as Daryl, or even Carl, but that's OK.
1) Hair-raising fun: Look, it's Halloween. Although realistically, for some of us Halloween is every day. Being scared to death, screaming at the top of your lungs, running from monsters – it's all in the spirit of the season.
The hours for Universal Studios Halloween Horror Nights are 7 p.m. to 2 a.m. every night. Tickets range from $59 to $139 and can be purchased at halloweenhorrornights.com/hollywood/2015/.
Video Slider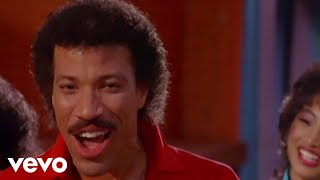 Win Tickets to See Lionel Richie at Hollywood Bowl
Lionel Richie is performing with very special guest Mariah Carey on the All the Hits Tour, and your chance to see them is at the Hollywood Bowl on Monday, July 31.