Five Reasons Why You Should Watch Truth or Dare
Lucy Hale in Truth or Dare (Universal Pictures)
If you love scary movies, then Truth or Dare is the movie for you. The scenes in the movie are so intense, they'll have you jumping out of your seat. For those who watch it, chances are you won't be able to sleep for days.
Truth or Dare is out in theaters today to fulfill your terrifying crave.
This film centers around Olivia (Lucy Hale) and her 6 friends after they insist she comes along on their Spring Break vacation to Rosarito, Mexico.
Everything is all fun and games until it's not; their innocent vacation turns deadly once they get convinced to leave the party scene to go to a remote area.
Jessica Cameron wrote the screenplay and Jeff Wadlow directed the film; and they both did a fine job, respectively.
Below are five reasons why you should watch Truth or Dare.
1.) Suspense: The supernatural thriller revolves around a deadly, inescapable game of "Truth or Dare" in which, if you refuse a dare or don't tell the truth, you die. When Olivia and her friends get caught up in the game, they have to keep playing to stay alive, while also searching for the source of the sinister game.
2.) Buttons get pushed: "Sweet little Olivia" turns sour when she and her friends are forced by this sinister game to do and say things they don't want. It's one of those things you have to watch to understand.
3.) Lucy Hale and Tyler Posey have great chemistry together: they are better than ever; their performances in the movie show just how great they are on screen. Not only do they look physically good together but their chemistry in the movie shows just how great of friends they are. Along with that, things become intense when Olivia is forced to hook up with Lucas.
4.) Music: Matthew Margeson does a great job at keeping the audience in suspense from beginning to end. Not only does this movie keep you out of your seat but it will have you paranoid even after leaving the theater, and that's because the musical score functions just as it should: it connects with the audience in so many ways.
5.) Plot twist: Just when you think it is game over, things take an unlikely turn for Olivia and her friends. Olivia decides to risk the life of others if it means she gets to live, even if it's only temporary.
Truth or Dare is now in theaters.
Joelly Vazquez contributed to this story.
Video Slider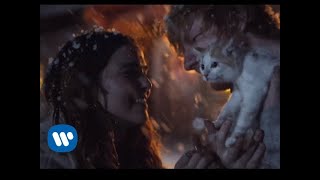 Win Tickets to See Ed Sheeran at the Rose Bowl
Ed Sheeran is back in Los Angeles, and your chance to see him perform is at the Rose Bowl in Pasadena on Saturday, Aug. 18. We are giving away complimentary tickets to the show. For a chance to enter to win, email us at
[email protected]
with "Ed Sheeran" in the subject line and tell us why you would like to go.