Five Reasons Why Knott's Scary Farm Is a Thrill This Year
Black Magic is just one of 11 mazes to keep you screaming at Knott's Scary Farm 2015.
It's the most wonderful time of the year, for horror fans that is. With Halloween decorations slowly creeping their way into stores, we're quickly reminded that the wickedly fun holiday is just around the corner.
There is nothing more satisfying for a horror enthusiast than having the hell scared out of them. If that's you, you're in luck. Knott's Scary Farm is prepared to make your blood curdle and give you the fright you've been praying for.
Now in its 43rd year, the annual event has become a favorite for Southern Californians. Knott's Scary Farm happens for only 24 horrifying nights, starting Sept. 24 and coming to an end on Oct. 31, so get your tickets fast.
Guests can experience 11 mazes, two live-action packed shows (Elvira's "Asylum" and "The Hanging"), five Skeleton Key Rooms and many, many monsters.
A must for any attendee is Ghost Town Streets, the original scare zone where human/animal hybrid monsters roam the streets and hide in the darkness to scare unsuspecting victims. If you've ever been here before, you know what to look out for: sliders. If you're attending for the first time, you will quickly know what we mean once you step foot into the darkness.
While we could go on for eternity about what makes Knott's Scary Farm the perfect treat, we'll leave you with the five most important reasons.
5) You get to fight zombies: Yeah, you read that correctly. Back by overwhelming demand, Knott's is bringing back Special Ops: Infected – Patient Zero. Here, guests can sign up to fight the zombie apocalypse in the interactive experience. This year there are more blood-thirsty zombies, brand-new high-tech laser guns and more missions.
4) Mazes: You need to experience these for yourself to understand why we're so stoked about them. There are 11 to choose from, each creepier than the next. Black Magic, the Dead of Winter and Tooth Fairy are just a few of the mazes.
3) Scare Zones: Carnevil, Fiesta De Los Muertos and Ghost Town Streets – these are the three scare zones. Brace yourself to be surrounded by freaks, dance music, stilt walkers and sliders.
2) Elvira – Mistress of the Dark: Where do we even begin? The 'Queen of Halloween' is back with an all-new nightly show. "Elvira's Asylum" features music, dance and comedy. The devilishly attractive Elvira (played by actress-writer Cassandra Peterson), has become a cult favorite for many in her 26-year career. Known for her sass, sexual innuendos and macabre humor, your bones will surely be rattling with laughter.
1) Monsters: This should come as no surprise, we want monsters! Give us ghouls, goblins, witches, zombies, anything. The scarier, the better. You won't be disappointed, we promise. Knott's has you covered. In fact, there are going to be 1,000 live monsters lurking in the dark. Make sure to keep your eyes peeled, you never know what's around the corner.
Park hours throughout the duration of the Halloween festivities are as follows: 7 p.m. to 1 a.m. Wednesdays, Thursdays and Sundays; 7 p.m. to 2 a.m. Fridays and Saturdays. Tickets start as low as $39.99 and can be purchased now at knotts.com/scaryfarm/.
Video Slider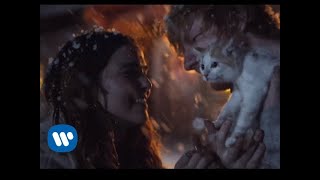 Win Tickets to See Ed Sheeran at the Rose Bowl
Ed Sheeran is back in Los Angeles, and your chance to see him perform is at the Rose Bowl in Pasadena on Saturday, Aug. 18. We are giving away complimentary tickets to the show. For a chance to enter to win, email us at
[email protected]
with "Ed Sheeran" in the subject line and tell us why you would like to go.