Five Reasons We Loved "Mamma Mia!" at the Hollywood Bowl
"Mamma Mia!" in July 2017 at the Hollywood Bowl (Craig T. Mathew and Greg Grudt/Mathew Imaging)
After more than 15 years, a hit movie and countless shows in hundreds of cities, the iconic Broadway musical "Mamma Mia!" continues to hum along, even two years after the original Broadway production closed its doors. "Mamma Mia!" came to the Hollywood Bowl on Sunday, July 30, 2017 with a triumphant performance in front of a packed house.
There were many things to love about it, but here are the top five reasons we loved Mamma Mia at the Hollywood Bowl.
Jaime Camil
Jaime Camil is better at crossing over than Allen Iverson. From Spanish hit telenovela "La Fea Mas Bella", to "Jane the Virgin" to cameos on shows like HBO's "Last Week Tonight With John Oliver", few actors manage to cross over from Spanish to English and vice versa more seamlessly than Camil. And in his role on Sunday as Sam Carmichael, the one true love of Donna Sheridan (played brilliantly by Jennifer Nettles), the charismatic Mexican star arguably stole the show with his fantastic rendition of "SOS".
Dove Cameron
Speaking of stealing the show and crossing over, Dove Cameron was one of the top highlights of the evening in her role as Sophie Sheridan, who is Donna's daughter and Sky's fiancee. The Disney star showed off her musical talents once again (last year she played Amber Von Tussle on the NBC special "Hairspray Live!") with her pitch-perfect melody.
Listening to ABBA for Two Hours
Even if you're afraid to admit it, you love ABBA. Okay, maybe that's a bit of a reach. But there are only a handful of bands whose melodies elicit involuntary toe-thumping to the beat, and ABBA is one of them. It was hard to choose between "Dancing Queen," "Mamma Mia", "Chiquitita" and "SOS" as the highlight of the night, so I won't – because they all turned out to be phenomenal.
Great Singing Cast
As you've seen in many movie musicals, not all cast members in them are musically gifted enough (*cough* La La Land *cough*) to be in a major musical. In "Mamma Mia!", there was no weak link in terms of singing ability. Personally, I was pleasantly surprised by a few of the cast members (Camil, in particular) and their ability to hit all the notes.
Musicals Under the Stars
There's nothing like watching a Broadway musical at one of Broadway's premier venues. But watching a renowned musical like "Mamma Mia!" under the Los Angeles summer stars at the iconic Hollywood Bowl is pretty great, too. The Hollywood Bowl provided the perfect backdrop for a great night, with great music and a brilliant cast.
Video Slider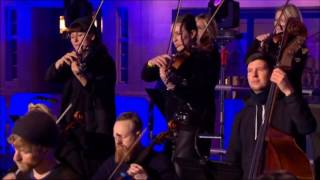 Win Tickets to See Pete Tong at Hollywood Bowl
Pete Tong is back in Los Angeles, and your chance to see him perform is at Hollywood Bowl on Thursday, Nov. 9. We are giving away complimentary tickets to the show. For a chance to enter to win, email us at
[email protected]
with "Pete Tong" in the subject line and tell us why you would like to go.