Five Reasons to Love Daryl Hall and John Oates
Over 40 years since the release of their debut album, Daryl Hall and John Oates continue to stay relevant. (Mick Rock)
It's nearly impossible to not be aware of who Daryl Hall and John Oates are. While commonly known as "Hall & Oates," the two have become the No. 1 selling duo in music history, and it's not hard to see why.
If you were to take a handful of some of today's newest artists, the likelihood that you would find they were in some way influenced by the pair is pretty high. With a career beginning in Philadelphia in the '70s, the duo reached major success with songs like "Rich Girl," "Maneater," "Private Eyes" and more.
Hall and Oates ranked No. 15 on Billboard magazine's list of 100 greatest artists of all time, and were the No. 1 duo. In fact, in April of 2014, they were inducted into the Rock and Roll Hall of Fame.
We caught their much-awaited performance on Sunday, Aug. 30 at Irvine Meadows Amphitheatre, and it was by far one of the most enjoyable and soothing shows we've experienced thus far in the greater L.A. area this year. You can catch John Hall and Daryl Oates on tour now. To see when they're in your city or country, visit hallandoates.com/tour.html.
If you're looking to get your fill of the duo, pick up their first box set, Do What You Want, Be What You Are: The Music of Daryl Hall & John Oates.
Below are a handful of reasons as to why you should be interested in the duo.
5) "Live from Daryl's House:" Created in 2007, the show features Hall performing with his band and various guest artists. If you haven't checked it out, you should. Hall has featured Ben Folds, Amos Lee, Minus the Bear, Sammy Hagar and many more musicians. You can catch new episodes at livefromdarylshouse.com.
4) Solo albums: While it's easy to tie the two musicians together all of the time, they actually have been successful on their own. Hall & Oates aren't one person, you guys. They have their own separate careers. Oates released his solo album, Mississippi Mile, in 2011, and Hall released his album, Laughing Down Crying, the same year.
3) Lyrics: They were inducted into the Songwriters Hall of Fame in 2003. Enough said.
2) Sound: You know when you're listening to a song from the duo. Blending pop, rock and jazz, it's the perfect soundtrack to listen to when you need to wind down and relax. Even if you aren't familiar with their music, it won't stop you from enjoying it. And guess what? Their sound is even better live!
1) Staying Power: It's been more than 40 years since their debut album, Whole Oats, was released. Since then, the two have gone on to release 18 studio albums, 11 live albums, 27 compilation albums and 63 singles. The duo have certainly stayed busy and continue to tour.
Cory Ortiz contributed to this story.
Video Slider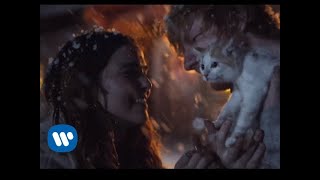 Win Tickets to See Ed Sheeran at the Rose Bowl
Ed Sheeran is back in Los Angeles, and your chance to see him perform is at the Rose Bowl in Pasadena on Saturday, Aug. 18. We are giving away complimentary tickets to the show. For a chance to enter to win, email us at
[email protected]
with "Ed Sheeran" in the subject line and tell us why you would like to go.