Five Reasons to Love Bomba Estéreo
Simón Mejía and Liliana Saumet of Bomba Estéreo
Most of us have never experienced Carnaval de Barranquilla, one of the biggest carnivals in the world and Colombia's most important celebration. Fortunately for us, Bomba Estéreo shows us what we're missing.
Founded in 2005 by Simón Mejía, the band debuted their new record, Amanecer (Wake Up), earlier this month. Made up of Liliana Saumet on vocals, Mejía on bass and synthesizer and Julián Salazar on guitar, they've released three other albums: Volumen 1 (2006), Estalla/Blow Up (2008/2009) and Elegancia Tropical (2012). The trio has gained a steady fan base and has won various awards, including the iTunes Award for Best New Artist in 2012 and the Revista Shock Award for Best Group the following year.
Known for their folkloric rhythms, traditional cumbia, and alternative tunes, the band teamed up with Ricky Reed (producer of Jason Derulo's hit song "Talk Dirty") to produce Amanecer. Taking their original sound and tweaking it, the band wanted this album to have a more electronic sound and appeal to a bigger audience.
The track "Fiesta" is not only fun to listen to, but the video for it features amazingly psychedelic visuals. Full of neon colors, trippy lighting and a beat that won't quit, you'll be left wondering what you just watched.
Keep reading for more reasons why Bomba Estéreo is on our summer playlist.
5) Sound: The use of cumbia, alternative, Caribbean, psychedelic, electronic and house music all make Bomba Estéreo songs the perfect soundtrack for summer. Whether you're laying out by the pool or at the beach, Amanecer features both upbeat, make-you-want-to-dance jams as well as more mellow, road-trip worthy songs.
4) Lyrics: The trio has managed to not only cross the language barrier, but also destroy it. Using a blend of "Spanglish," it truly does not matter if you understand the words or not. Seriously, check out "Fiesta" and you'll know what I mean. With lines like "Y ven a bailar y ven a gozar, que se prendió la fiesta que estamos en carnaval" ("Come dance and enjoy, the party has begun, we're at carnaval"), the track proves that good music and partying can translate into any language.
3) Style: From stage presence to interviews, there's something cool about the band. They manage to look like rock stars without seeming pretentious, and more than that, they look like your normal everyday people, but with something special about them.
2) Attitude: While we've focused on the fun aspect of the group, the new album is much more than that. Sure, it's a twist on their old sound, but despite having gained a new following and having been signed to Sony, the band has continued to stay true to their roots.
1) Interaction with fans: If you look at their Facebook or any social media, you see something you don't typically see with most musicians: They actually reply. From answering questions to sending best wishes, they take the time to speak to their fans on a more intimate level.
Amanecer is currently available. For more information, visit bombaestereo.com.
Video Slider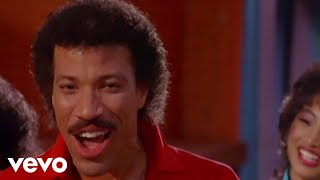 Win Tickets to See Lionel Richie at Hollywood Bowl
Lionel Richie is performing with very special guest Mariah Carey on the All the Hits Tour, and your chance to see them is at the Hollywood Bowl on Monday, July 31.