Five Imagine Dragons Songs to Get You Pumped
Imagine Dragons have several songs to motivate you in their arsenal.
Whether you're out for a run, doing homework, working on your career strategy or in need of a creative pick me up, here's our selection of Imagine Dragons songs to get you pumped. Check out their best lines and why we love these tracks.
"On Top of the World"
And I know it's hard when you're falling down
And it's a long way up when you hit the ground
Get up now, get up, get up now.
The steady build of this song and the whistling make for a great soundtrack to your moments of victory. It's about celebrating the small things to make you feel like you're on top and to never give up.
"It's Time"
So this is where you fell
And I am left to sell
The path to heaven runs through miles of clouded hell
Right to the top
Don't look back
Turning to rags and giving the commodities a rain-check
The theme of beginnings in this track speaks to anyone who feels like they've hit bottom. It's a reminder that even in the the thick of conflict, there is always an opportunity to start again.
"Amsterdam"
Your time will come if you wait for it, if you wait for it
It's hard, believe me … I've tried
But I won't wait much longer 'cause these walls they're crashing down
"Amsterdam" shows the power of realizing your mistakes. Even on the roads that may lead you far from those you care about, you can make amends and keep moving forward.
"I Bet My Life"
I've been around the world and never in my wildest dreams
Would I come running home to you
I've told a million lies, but now I tell a single truth
There's you in everything I do
With lyrics that reflect on relationships and how, in life, they aren't always given the respect they deserve, "I Bet My Life" dedicates the rightful due to loved ones. When you listen to it, you think of everyone you're working hard for.
"Radioactive"
I raise my flag and dye my clothes
It's a revolution, I suppose
We're painted red to fit right in
Whoa
Hands down the most adrenaline-pumping song. "Radioactive" makes you feel like you're leading a revolution and charging into battle. You put this on, and you're ready to take on anything!
For more Imagine Dragons songs, visit imaginedragonsmusic.com.
Video Slider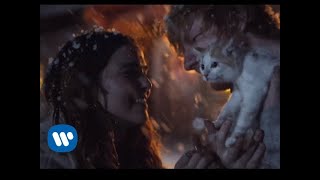 Win Tickets to See Ed Sheeran at the Rose Bowl
Ed Sheeran is back in Los Angeles, and your chance to see him perform is at the Rose Bowl in Pasadena on Saturday, Aug. 18. We are giving away complimentary tickets to the show. For a chance to enter to win, email us at
[email protected]
with "Ed Sheeran" in the subject line and tell us why you would like to go.