All in the Family: Seer and Metaphysical Medium Maria Luisa Mispireta
Maria Luisa Mispireta (Marvin Vasquez/Living Out Loud LA)
There have been many popular TV shows and films about psychics, mediums, clairvoyants and people with similar gifts. On television there were the fictional "The Ghost Whisperer" and "Medium," as well as other programs hosted by real life "seers" (someone who predicts things that will happen in the future), such as John Edward in "Crossing Over" and James Van Praagh (who co-executive produced "The Ghost Whisperer") in a short lived show of his own, "Beyond with James Van Praagh".
Maria Luisa Mispireta is one of the most important "seers" from Latin America who moved from her native Peru to Los Angeles when she was 15 years old. In her professional practice she has an array of clients, from local residents to celebrities and law enforcement.
At a very young age, Maria Luisa says she felt the presence of forces that would communicate with her about events in the future.
"When I was 7 years old, I foretold a large earthquake that hit Peru in 1970," she recalls. "I began to scream to my mother to get my recently born sister out of her crib, which was next to a very large window, and she did. Within seconds, the earthquake hit and the window collapsed over the area where the crib was located."
In the fictional television show "Medium," the lead character Allison DuBois (played by Patricia Arquette) is not the only person in her family that has "the gift." Her daughters Ariel and Bridgette have visions or dreams of their own. In a similar case, Maria Luisa shares that both her children and her father have these supernatural gifts.
"When I was very small, around 3 years old, I began to speak to the mirror and with 'angels.' At around 7 years old was when I began to tell my parents about my visions," she says. "My family tried to hide my gifts, even though my father had similar ones. In those days it was not so understood and popular. Now, both my son and daughter are aware that they have inherited these 'gifts' but have not accepted it and don't care to develop it."
There are many titles/labels for people with the same abilities that Maria Luisa possesses. They are called psychics, fortune tellers, mediums or other names, so I asked Maria Luisa how she defines herself.
"I am a metaphysical medium that can communicate with those in the other realms and a seer who can see things that others can't see," she replies.
With such a diversity of clients in her practice I wonder what a typical session is like – how long it lasts and what are some of the most-asked questions.
"When a person comes to see me, a set time does not exist because I work in a different way," she describes. "First I have to touch them or visualize them, and if the person is not present I need a name and birthdate. Next I ask them what brings them to me, and as they are explaining the reasons of their visit I start getting into their aura to see what the problems are. So the sessions last as long as the questions they come to ask are told to me."
In the not so recent past, people who possessed gifts similar to those of Maria Luisa were accused of witchcraft and/or having pacts with the negative forces in the universe. But as more seers, clairvoyants and mediums come out of the closet so to speak and into the mainstream, these myths are being shattered.
Much like a "canary in a coal mine," used to detect small amounts of dangerous gases (such as methane or carbon monoxide) leaking into the mines, these very sensitive human beings are warning the world of catastrophes, wars and natural disasters. On a personal level, they help the rich, the famous and the ordinary person deal with problems, as well as keeping them in contact to loved ones who have passed into the spiritual realms. These special people are bridges to worlds and energies most of us never see or feel, so they are the gift to mankind.
For more information, visit misticaml.com.
Video Slider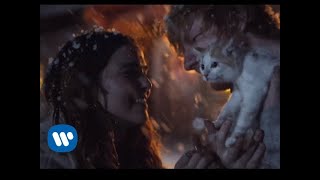 Win Tickets to See Ed Sheeran at the Rose Bowl
Ed Sheeran is back in Los Angeles, and your chance to see him perform is at the Rose Bowl in Pasadena on Saturday, Aug. 18. We are giving away complimentary tickets to the show. For a chance to enter to win, email us at
[email protected]
with "Ed Sheeran" in the subject line and tell us why you would like to go.