Experience a Slice of Derry at the House Where IT Lives in Hollywood
Walk through the Neilbolt House in preparation for the Sept. 8 release of IT. (Sabina Ibarra/LOL-LA)
To promote the release of the latest adaptation of the Stephen King horror classic IT, about the evil that takes the form of a demented clown and terrorizes a small town, Warner Bros. set up a pop-up haunted house on Hollywood and Vine for the public to get a glimpse of what the studio has in store for their next horror film. We were invited to the preview night to be a part of the first group to go in and get a taste of the fear in store when the film comes out.
The haunt itself had the vibe of the trailer. It doesn't quite give too much away from the movie besides maybe their interpretation of iconic moments like IT and his popping balloons and the sewer sequences without too much context. It has a good number of practical funhouse scares and live performers, as well as some new digital and visual freak-out moments.
You walk through the Neibolt House, guided by the missing Georgie and encounter the things of childhood nightmares: twisted rooms filled with clown mannequins that may or may not be watching you and the looming presence of the movie's icon, Pennywise the dancing clown. You feel immersed in the world of the film, which centers on a group of kids who start being followed by IT, and while you're in the house, you find that you're in their shoes.
The experience lasts about 15 minutes in groups of 8-13 people and is now open to the public. The house will be running until the film's release and will hopefully get an extension. This is definitely not for kids under 18 because of some intense moments within the experience. For a free standalone haunt, which is officially sold out on the Warner Bros. site, it's totally a fun pre-game for the Halloween season which will certainly get people hyped up for the film's release on Sept. 8.
The House Where IT Lives LOCATION: Hollywood Boulevard and Vine Street Parking Lot.
Video Slider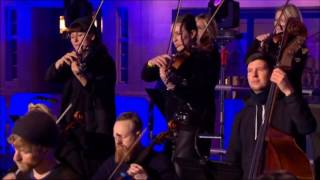 Win Tickets to See Pete Tong at Hollywood Bowl
Pete Tong is back in Los Angeles, and your chance to see him perform is at Hollywood Bowl on Thursday, Nov. 9. We are giving away complimentary tickets to the show. For a chance to enter to win, email us at
[email protected]
with "Pete Tong" in the subject line and tell us why you would like to go.