Experience Dance Like Never Before with Alvin Ailey American Dance Theater at The Music Center
AAADT in Hofesh Shechter's "Uprising." (Paul Kolnik)
Known for its legacy of celebrating the human spirit, the Alvin Ailey American Dance Theater will return to Los Angeles with a six performance engagement at the The Music Center's Dorothy Chandler Pavilion from April 15-19.
Led by Artistic Director Robert Battle, show-goers can expect intricate dance stylings in three memorable programs, Power of Alley, Soul of Alley, and Joy of Ailey.
Founded by dancer, choreographer, and visionary Alvin Ailey in 1958, the Alvin Ailey American Dance Theater was created to bring African-American cultural expression to the world, along with Ailey's vision of modern American dance.
Since it's formation, the Ailey company has performed for an estimated 25 million people spanning 48 states and 71 countries on six continents.
For dancer Collin Heyward, this will be his first time performing with the company under a full time contract since joining last year.
Heyward began his training at The Academy of Dance and Gymnastics in Newport News, VA, and later transferred to Denise Wall's Dance Energy in Virginia Beach. He graduated with honors from the Ailey/Fordham B.F.A. Program in Dance and was a member of Ailey II from 2010 to 2012.
Since joining the company, Heyward has had to learn and adapt quickly and with that, has gained confidence in knowing that he was chosen to join for a reason.
"You're always learning and trying to do everything to the best of your ability," Heyward said. "The biggest obstacle is doubting that you are good enough."
"In dance you're constantly critiquing yourself and looking in the mirror at your imperfections," he expressed. "With that being said, you need to know what you bring to the table and know your strengths."
"You'll be told 'no' a lot in this industry, those no's lead you to that one 'yes.'"
He says he is most excited for "Odetta," the program which acts as a tribute piece to singer and civil rights activist, Odetta Holmes.
Due to the current state of racial tension and overall social issues, he says this piece is very much needed and believes it will be around in the company for a very long time due to its beauty and emotion behind it.
During the Power of Alley, you can catch "Uprising," with choreography by Hofesh Shecter, "Episodes" (choreography by Ulysses S. Dove), "Caught" (choreography by David Parsons), and "Minus 16" (choreography by Ohad Naharin). It will take place Wednesday, April 15 at 7:30 p.m. and again on Saturday, April 18 at 7:30 p.m.
Heyward says that audiences can expect a very raw and primal performance from "Uprising," which features seven men.
As for Soul of Alley, it features "Odetta," with choreography by Matthew Rushing, "Bad Blood" (choreography by Ulysses S. Dove), and "Revelations" (choreography by Alvin Aile)y. It is scheduled for Thursday, April 16 at 7:30 p.m. and a matinee on Sunday, April 19 at 2 p.m.
"Bad Blood" revolves around the idea of love/hate relationships and consists of intricate and very athletic movements.
Lastly, Joy of Ailey features "Lift," with choreography by Aszure Barton, "Polish Pieces" (choreography by Hans van Manen), "After The Rain" (choreography by Christopher Wheeldon), and "Revelations" (choreography by Alvin Ailey). This program will be hosted Friday, April 17 at 7:30 p.m. and Saturday, April 18 at 2 p.m.
Heyward encourages audiences of all ages and all walks of life to take part in the Alvin Ailey American Dance Theater experience and says, "It is a great show to rejuvenate your spirit, there is something for everybody."
Tickets can be purchased online at www.musiccenter.org/ailey or at The Music Center's Dorothy Chandler Pavilion Box Office located at 135 N. Grand Ave. at Temple St., Los Angeles, CA 90012.
Prices range from $34-$138.
For more information, you can also call The Music Center Dance Information Line at (213) 972-0711.
Video Slider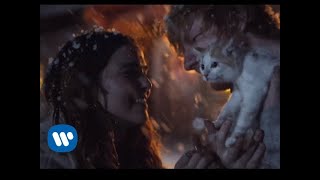 Win Tickets to See Ed Sheeran at the Rose Bowl
Ed Sheeran is back in Los Angeles, and your chance to see him perform is at the Rose Bowl in Pasadena on Saturday, Aug. 18. We are giving away complimentary tickets to the show. For a chance to enter to win, email us at
[email protected]
with "Ed Sheeran" in the subject line and tell us why you would like to go.