Exclusive: Hell and Back's Rob Riggle and Nick Swardson Keep Playing It Off the Cuff
Remy (Nick Swardson) and Augie (T.J. Miller) in Hell and Back
Meet Remy (Nick Swardson), Augie ("Silicon Valley's" T.J. Miller) and Curt (Rob Riggle), lifelong friends whose summer job isn't working out as well as they'd hoped so Remy seeks out a fortune teller for advice. Their curiosity unleashes the Blood Oath of Beezlebub – a legendary myth that proves its power as the Devil (Bob Odenkirk) drags Curt kicking and screaming to Hell. Are Remy and Augie prepared to fight the legions of Hell to get their friend back? Spoiler: No. Absolutely not.
In the raunchy R-rated animated comedy from the studio that brought you "Robot Chicken," "TripTank" and "BoJack Horseman," the three friends navigate their escape from Hell facing off against a slew of misfit demons, a super sexy angel, infamous Greek legends and the Devil himself. Hell and Back costars a who's who of comedy including Mila Kunis, Danny McBride, Jennifer Coolidge, Lance Bass, Kerri Kenney, David Koechner, Brian Posehn, Michael Peña, Greg Proops, Maria Bamford, Paul Scheer, Paul F. Tompkins and Susan Sarandon.
Rob Riggle and Nick Swardson recently sat down and talked not only about Hell and Back, but Swardson's love of caviar, their fascination with the World Series of Poker and not showering before going to the voiceover booth.
Rob Riggle: Is this being recorded? [to me as I put the recorder on the table]
Living Out Loud – Los Angeles: Of course not [sarcastically]. Say whatever you want.
RR: I'm going to record it too then [as he sets his cell phone on the table].
LOL-LA: Who should we talk shit about first then since this is off the record? Who was the worst person to work with?
RR: I don't know [points to Swardson].
LOL-LA: So why are you so bad to work with, Nick?
Nick Swardson: I am what you call 'high maintenance.' I ate a gallon of caviar before every take.
RR: Think about the cost of that alone. Think about what it does to your bowels.
NS: It's a wrecking ball.
RR: And all the salt. Think about what it does to your throat. It set us back months in production.
NS: And millions of dollars
RR: And the ironic thing is that you hate caviar.
NS: I hate it.
RR: You did it out of spite.
NS: I kind of did, but my performance – really good!
LOL-LA: The comedy is all from the caviar.
NS: It's a new festival, the Caviars of Comedy. It's going to be big.
LOL-LA: I want a cut [of the profits] from that.
RR: Done!
LOL-LA: Neither of you grew up in Hollywood. What made you decide to be an entertainer?
RR: I was in a thing called Forensics in high school. It wasn't theater. It was more like improv and sketch. I loved it and became a theater and film major in college. I was just a comedy fan my whole life. I went to school the day after I saw [Eddie Murphy's] Delirious, I was in eighth grade or something like that and recited the entire thing on the playground.
LOL-LA: Hopefully the teachers didn't hear you.
RR: Of course not. I knew eventually I was going to take a shot at it whether I had any success or not.
NS: I did comedy in high school and theater and improv stuff. I was going to go to college, but my grades were bad and my family had literally no money. I took a year off and was just winging it. I did an open mic in downtown Minneapolis. It went great. They made me the house emcee like two months later.
I remember my first paycheck for doing comedy. My mom had been giving me shit forever like, "You've got to go to college. This comedy thing is stupid. What are you doing with your life?" Then I got my first paycheck, and she's like, "Do comedy. Do comedy! I don't know why you keep bringing up college" [laughing].
LOL-LA: So she's OK with the comedy thing now I assume?
NS: She's fine. Never borrows money.
LOL-LA: [to Riggle] And your mom never borrows money either?
RR: Never. She wins a lot in poker from me. She's a shark.
NS: Is she going to the World Series [of Poker]?
RR: No, but she'll stab your hand on the table if you mess around.
NS: I'll split her buy in with you if you let her go. I'm not a great poker player, but I want to go to the World Series of Poker just to try it.
RR: Someone else would have to put up the money. Ten grand is an awful lot of money. I would love to do it too just to see what would happen. You'd be out first day. I'd be out first day.
NS: Is there a way we could each put in $5,000, and I sit on your shoulders?
LOL-LA: You could go all NASCAR and get a bunch of companies to sponsor you and wear their logos.
NS: ShadowMachine [the company that produced Hell and Back].
RR: [Susan] Sarandon.
NS: Sarandon would want in on that big time.
RR: She would. We could wear big jackets that just read 'Sarandon' on the back.
LOL-LA: She seems like an instigator who might like that.
RR: I haven't met her, but I think she'd be on board for what we're talking about.
LOL-LA: Let's throw it out there.
RR: Done and done.
LOL-LA: So, back to the movie. I know you're not on the set together since you're doing voiceover work. Watching the movie though, it seemed like you guys had fun. For as much as it could be doing voiceover, it seemed like a fun set. Is that an accurate assumption?
RR: The energy probably felt that way when you watched it. When you're in the booth, the directors are great. They bring a lot of energy. When I came in, they would say, "You have to listen to what Nick did yesterday or listen to what [Bob] Odenkirk did earlier." I would sit there and just die laughing. That makes you want to deliver the best that you can and get in on the fun, too. There was a lot of mutual respect among everyone in the cast.
NS: We all know and respect each other. When you would hear someone else, they would just set the bar higher. Everybody was passionate about the project. Nobody knew what would happen with it. It didn't have distribution, and they were pulling it out of their ass.
RR: A lot of it was done on faith. You start to hear about everyone involved. It's like, "I love that person and that person and that person. I trust that person."
NS: You didn't trust me. You were very vocal about that.
RR: I called a lot of people asking, "Would you trust this man?" Then I took one of your worst pictures and put an ad in Variety…
NS: Probably one of my 50 mug shots.
RR: It was probably a mug shot and boxes marked 'yes' and 'no' and a toll free number, and the response was off the hook.
NS: He used my cell phone number, and my phone was going off left and right.
LOL-LA: So, for those who don't know, how different is it doing voiceover compared to live action?
RR: It's so different. For voiceover, you roll out of bed, throw on whatever you're wearing – no shower, no shave. You throw on a hat and come down. You're just working with the directors and producers. You work for a couple of hours, and you're out of there. For live action, you have to get up super early. You've got to get groomed. You've got to get wardrobe. There's a huge group involved. And there's other actors involved that you've to play off of and work with. It's a 14-hour day. Voiceover is the best gig in the world.
NS: Voiceover is amazing. Didn't Cameron Diaz make like $60 million for all three Shreks, and it came up to a total of two-and-a-half weeks of work?
RR: You can only do voiceover for maybe two hours. You're going up and down octaves, moaning, screaming. After two hours, maybe three, your throat is done. In live action, you're on set for 12, 14 hours a day, and that's just the way it is.
NS: You look at "The Simpsons" guys, and you're like, 'Oh my God.' My favorite is the people who do voiceovers who have made so much money that they have their own booth in their freaking house.
LOL-LA: Since you have both done a lot of voiceover work, when you see a script, can you tell if it has the potential to be a hit or is it a total crapshoot?
NS: It's a freaking crapshoot.
RR: It's always a crapshoot. When you looked at the script, you could see the funny lines. You could see where it's going. When we got in the booth, Tom [Gianas, the director] let us improvise our asses off. Between a great script and being able to improvise, you could get some good stuff.
NS: I also think it's really about who's behind the camera and who's running the show. It's about people trusting you to bring what you bring to the table.
LOL-LA: So the two of you both improvised a lot for Hell and Back?
NS: A ton.
RR: Every time I went in the booth. We'd run through, then we'd do it again, and they'd ask, "What do you have?"
NS: We had the luxury of time, so we were able to fine tune the script and punch up jokes.
Hell and Back opens in select theaters Oct. 2.
Video Slider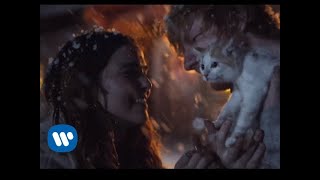 Win Tickets to See Ed Sheeran at the Rose Bowl
Ed Sheeran is back in Los Angeles, and your chance to see him perform is at the Rose Bowl in Pasadena on Saturday, Aug. 18. We are giving away complimentary tickets to the show. For a chance to enter to win, email us at
[email protected]
with "Ed Sheeran" in the subject line and tell us why you would like to go.