Energydots Make the Perfect Father's Day Gift
energydots is a range of self adhesive 'dots' that have been programmed to harmonize the effects of man-made or non-optimum electrical emissions that surround us in our 'wireless' world. (Courtesy photo)
Don't give your dad the typical Fathers Day gift, if he's tech savvy but weary of potential harm from using electronics, look to Energydots for the ultimate gift.
Energydots was created 15 years ago in the UK in an effort to help with the rising levels of electro-magnetic (EMFs and radiation) emissions from mobile/wireless devices.
In their quest to limit the harm from electro-magnetic radiation, the company has grown and expanded their outlets to Asia, Africa Australia, Europe and most recently, the U.S.
The purpose of Energydots is to give consumers a tool, which will allow them to counteract the interference and in turn, support physical health.
While there are various products available, including the aquaDot, bioDot, spaceDot, petDot and more, one item which would make a great fathers day gift is the bioDot + smartDOT duo.
The smartDOT is a small "dot," which can be attached to any electronic gadget and is programmed to harmonize the EMF frequencies.
To simplify it, if you use your phone with reluctance or get tired when using a computer, there is some concern that it could be due to high exposure to electromagnetic radiation.
That radiation could negatively impact one's health, with the smartDot, it's meant to retune frequencies and allow the body to relax.
Simply peel off the protective backing and attach the dot to any device and you're ready to go.
Meanwhile the bioDot is programmed with powerful resonant Phi Technology that retunes energy fields.
It essentially recharges your battery and restores energy and can be worn day and night and can even be attached to jewelry.
The duo retails at $55 and will surely be a topic of conversation amongst dads and their friends.
Whether purchasing this duo or any of the other items from Energydots, full product descriptions can be viewed and purchased at www.energydots.com.
Video Slider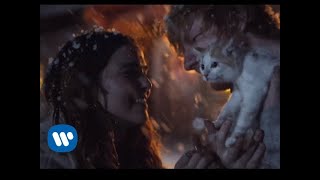 Win Tickets to See Ed Sheeran at the Rose Bowl
Ed Sheeran is back in Los Angeles, and your chance to see him perform is at the Rose Bowl in Pasadena on Saturday, Aug. 18. We are giving away complimentary tickets to the show. For a chance to enter to win, email us at
[email protected]
with "Ed Sheeran" in the subject line and tell us why you would like to go.