Encounter Horror's All-Time Greatest Icons at Universal Studios Hollywood Halloween Horror Nights 2017
The Shining maze at Halloween Horror Nights is simply the best. (David Sprague)
This year's Halloween Horror Nights at Universal Studios Hollywood doubles down on their Titans of Terror and iconic horror killers, as well as the new school from Blumhouse Film's collection of terrifying frights. In eight unique experiences and some with multiple worlds within, L.A. haunt-goers should expect to enter their wildest nightmares.
Here's our reaction to this year's selection of mazes and what to expect.
Terror Tram: We really dig the mash-up on the backlot. Chucky guides you on a tour to meet the Titans of Terror. If you're afraid of dolls like Chucky, brace yourself for quite the chase with a horde of Good Guy Dolls. There's nothing scarier than more than one Chucky. Bates Motel is cleverly changed into Camp Crystal Lake with iconic set pieces like Jason and the face grinder, which is exactly what it sounds like. The wasteland of the War of the Worlds set works perfectly as a nightmare-scape playground where Freddy Krueger chases you right into the Texas Chainsaw Massacre's merry family.
Line expectancy: Long due to length. Runs from 40-60 mins once inside. Make time for this one early because it's also a bit of a workout.
The Horrors of Blumhouse: In recent years, Blumhouse films have given us some new horror icons, and this maze plays like a fest of the greatest hits mixed with a fun little preview of their next release. The ultra-violence of Purge night is always a blast to go through, melding the fun, color and darkly "patriotic" nature of the films as you encounter and flee from fellow purgers. Our faves here are always the "Party in the USA" girls with their homicidal holiday enthusiasm. A new and very memorable addition is the world of Sinister and the first maze appearance of Bughuul. This is a character who works so well in a maze with a mythology and eerie scary factor that makes your skin crawl when he appears. Happy Death Day felt like a short but sweet preview of the new film with no major spoilers about the mysterious killer that dons a cartoon baby face that jumps out at you.
Line expectancy: Moderate. This is a good option to hit if the more popular mazes have super long lines and should definitely be on your top five maze choices.
Insidious: Having created such an extensive universe, Blumhouse's Insidious franchise returns with its own maze because it truly is its own thing. Returning sections like the home from the first film and the demons within are always solid. They still pack great scares. The newest entity of the franchise also gets a lot of exposure to sear it into your memory, as well as the sound of its key clawed fingers scratching. Shudder.
Line expectancy: Long AF. This is the maze that had the longest lines. Hit this up first, but the lines went over 100-minutes early during opening night with the likelihood of getting longer closer to Halloween. Opt for the Front of the Line pass if you really want to hit all the mazes.
Titans of Terror: Totally separate from the tram is another classic slasher maze centering around Freddy, Jason and Leatherface. Thank goodness, no Chucky because I would have had no chill and probably bailed. You get to live your greatest '80s horror icon life as you traverse kills that reminds you why they're the greatest and most in demand to see at the parks. Universal is where horror lives, after all.
Line Expectancy: Long waits. This packs so many icons in one maze that it's gonna attract lots of people. Prioritize this one over the Terror Tram, which has most of these characters but also has some inclines, this is a much more straightforward maze without breaking a sweat from exercise.
The Shining: This was hands-down our favorite maze. It's just simply the BEST. You walk through Kubrick's The Shining and feel like you're really at the Overlook Hotel with the Torrance family. Such gorgeous attention to detail, and the Kubrick creep factor is at 100 percent with plenty of jump scares. I wanted to live there and join them. I'm not saying much else because it's just incredible to experience. Make sure it's got top priority.
Line Expectancy: Worth the wait. Make it number one. If you get the Front of the Line pass, do it multiple times. You just really want to absorb all the details and probably linger, which is what's gonna make this the next conga-line maze.


Ash vs. Evil Dead: A groovy ride mostly into the world of the show. Would have loved more of the film universe, but we did get one nod to a character from Ash's past. If you don't really follow the show, it's a little difficult to get what's going on other than the moments that Ash comes out with his chainsaw. Lots of chainsaws this year, that's for sure.
Line Expectancy: Moderate but on the shorter side. This is one that will be easier to hit if you pick two long-line mazes and happen to have some more extra time.
SAW: The Saw mazes are always a visual treat with scares. It's so awesome to see signature torture devices out on display and see the artistic gore of the franchise. Scares mostly involve the pig-faced minions, and there's a few Jigsaw sightings.
Line Expectancy: Moderate to long. Should definitely be on your top five mazes to hit up.
American Horror Story: Okay, this maze was a little disappointing. Not because it was bad, but because having not seen the "Roanoke" season of the show I had no idea of what was really going on other than violence in the woods and a reality show going wrong. It just also feels like the least resonant season of the show and probably shouldn't have gotten a maze. The "AHS" maze from before – even if you weren't that familiar with the characters – had the show's stand-out baddies that people could at least identify more.
Line Expectancy: Moderate but maybe not worth the wait unless you've seen "Roanoke."
The Walking Dead: For "The Walking Dead" fans, this year-long available installation is a medley of some of the show's mazes greatest hits. If you haven't gotten the chance to check this out, it's now a permanent attraction, which means if you're don't really go to the parks unless it's Haunt time, you get to experience shorter lines here and not have to deal with all the conga-line halts of mazes past.
Line Expectancy: Breeze through it. Get some solid scares in to add more bang for you buck if you opted for general admission and didn't get to do many of the big mazes.
Universal Studios' Halloween Horror Nights runs through Nov. 4. For tickets and more information, visit halloweenhorrornights.com/hollywood/2017.

Video Slider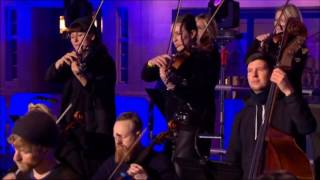 Win Tickets to See Pete Tong at Hollywood Bowl
Pete Tong is back in Los Angeles, and your chance to see him perform is at Hollywood Bowl on Thursday, Nov. 9. We are giving away complimentary tickets to the show. For a chance to enter to win, email us at
[email protected]
with "Pete Tong" in the subject line and tell us why you would like to go.