"En Ruta-T: Tacos, Tortas y Tamales" on Canal 22 Debuts
"En Ruta-T: Tacos, Tortas y Tamales"
Did you know that Mexican food in America has become an $8 billion dollar market? Whether its tortillas outselling bread or salsa becoming more popular than ketchup, it is obvious that Mexican food has officially become a mainstay in America and shows no signs of stopping.
"En Ruta-T: Tacos, Tortas y Tamales" Canal 22 original docu-series takes Mexican food connoisseurs on an epic 3,000 mile virtual culinary journey through several cities in the US from California to New York in search of America's best tacos, tortas, and tamales.
The weekly 30-minute series has 11 episodes (2 of which have already aired) showcasing the life stories of Mexicans nationwide who through the shared love of food, have managed to immerse Americans in the culture and cuisine of Mexico.
In episode 1, which premiered on December 20th, hosts Santi, Alex and Danky explore non other than the holy mecca of Mexican food in U.S. – San Diego, as they uncover the cultural impact of this border town's migrant fusion and the different local delicacies celebrating the 4th of July – Fiesta Style!
Driving up the California coast for the second stop on this mouth-watering road trip, lands viewers in the City of Angels. Outside of Mexico, Los Angeles has more Mexicans than anywhere else in the world. In fact, they compromise almost half of the city's population! With so many options to choose from, it could not have been an easy task to find the best tacos, tortas and tamales in this beloved city. However, in episode 2, "En Ruta-T " not only rises to the challenge, but also takes the time to incorporate the pulse of Los Angeles through its music, people and heritage.
Where will they end up next? From coast to coast, with stops in cities that will surely surprise you, tune in every Sunday at 7:30pm PT/ 10:30pm ET on Canal 22 to watch Santi, Alex and Danky carry out every foodie's dream as they eat their way through a city near you.
Video Slider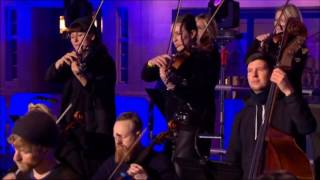 Win Tickets to See Pete Tong at Hollywood Bowl
Pete Tong is back in Los Angeles, and your chance to see him perform is at Hollywood Bowl on Thursday, Nov. 9. We are giving away complimentary tickets to the show. For a chance to enter to win, email us at
[email protected]
with "Pete Tong" in the subject line and tell us why you would like to go.