Earning Her Stripes: Becky G, the Safest Bet in an Uncertain World
You don't need to be in the entertainment industry to know that the entertainment industry is a fickle business. History has provided us with plenty of examples of promising, young stars who have come and gone into and out of the pop-culture lexicon and have become trivia answers from a bygone era. But when you're Becky G and you've had your sights stubbornly set on a career in music from an age when most of your peers were struggling to memorize the multiplication table, venturing into the entertainment industry becomes more of a shrewd hedged bet instead of the random crapshoot it looks like from afar.
The rise of Becky G came at a time when YouTube and the viral nature of the Internet could make virtually anyone a celebrity overnight, so it's understandable if it seems like her rise in the industry benefitted from a few handshakes between powerful record company executives and other fortuitous circumstances. While the latter may have some truth to it (considering virtually anyone who's anyone has had fortune smile upon them a time or two), Becky G's rise is far from a prefabricated backroom scheme.
It's a tough sell to say that the 17-year-old Inglewood native has paid her dues in the business – even she admits she hasn't. But her trajectory began well before she rose to fame with her series of remixes that included "Becky from the Block," a remix of Jennifer Lopez's "Jenny from the Block," that included a cameo by Lopez in the video.
Becky G's flair for entertaining began at an early age.
"I come from a really, really big Mexican family," says Becky G, whose birth name is Rebecca Marie Gomez. "When there was so many babies running around, the only way for me to get someone's attention was to [sing] and dance for people, entertain people and be extra loud. That's what I loved to do growing up … Now that I'm older, it's clearly helped me out, growing up that way [chuckles]."
The fact that her music fuses hip hop into the mix, along with her urban-inspired fashion sense, makes it so that the narrative about her upbringing is that she comes from the wrong side of the tracks. But she feels her surroundings are more eclectic than dangerous, something that's evidenced in her music.
"I grew up in Inglewood," she says. "It's funny because a lot of people ask me, 'Oh, you grew up in Inglewood? Was it rough? Was it bad?' It's absolutely nothing like that, you know. I'm sure a few blocks down, it get s little crazy. But where I grew up, I was allowed to ride my bike and walk to school and back."
Before Inglewood, however, the Gomez family did what many Latino families in the Greater Los Angeles area do and purchased a home in the Inland Empire (about an hour east of Los Angeles). But like most families around the 2008 economy crash, Becky G and her family felt the wrath of the recession and soon lost their home.
"I think where we struggled a little more [as a family] was growing up and having financial struggles, like a lot of other families," she says. "It was tough financially for our family to stay afloat at the time, with the economy crashing, and we lost our home."
This is how the Gomez family ended up in Inglewood at Becky G's grandmother's house.
There's this old debunked myth that says the Chinese use the same symbol for "crisis" and "opportunity." While the origin of that myth is unknown, it's easy to see how an optimist would view things through that scope. Although it's safe to assume that a 9-year-old Becky G wasn't an expert on the intricacies of the Chinese language, she managed to see her family's struggles through that same lens, well before a career as a singer seemed viable.
At her website, iambeckyg.com, under a section that includes her bio and important quotes, there is a quote that encompasses her ambition and foresight: "At age 9, though her parents did not have much money, Becky convinced them to let her start going on auditions for commercials, thinking she could contribute to the family's income after her parents lost their home and moved everyone into Becky's grandparents' converted garage."
"It was not easy," she shares, "but if it weren't for [our family's financial struggles], I wouldn't be as ambitious, and I wouldn't appreciate the things that I have as much. So I don't look back on it like it was a bad thing. If anything, I'm thankful that it happened because it only made us stronger as people and as a family."
Becky G now gets to do what most girls her age could only dream of doing. She constantly travels, gets to express her sense of fashion and share it with her more than 753,000 Instagram followers and nearly four million of her devoted followers on Facebook. She feels that traveling, in particular, is something that has broadened her perspective and worldview in a variety of ways.
"Traveling makes me a lot more aware of everything," she says. "I absolutely love food, and now with traveling, I'm like, 'Wow, I didn't even know this existed!' I'm trying new things and new ways of transportation. When I went to New York City for the very first time, I didn't know what a subway was. I had seen them in movies, but it wasn't possible for me to ever ride one. Trying things like that and working at different recording studios has shown me the world is really a big place."
Like her musical sound, her fashion and style are genuinely hers, which is something she takes pride in.
She says, "I'm a rapper and a singer, which is like urban pop music. My fashion style reflects that, too, because my music is me as a person and how I dress myself is me as a person. My personality is kind of tomboyish, but I'm also very feminine. My style is still very girly, but it has this rock, tomboyish feel to it that has urban elements."
Becky G says she is taking everything in stride, and even though her life has changed significantly in the past few years, she doesn't feel much different than she did before her fame. She still likes being home, watching romantic movies and eating home cooking when she has the time. The only aspect of her career that has been surreal so far came last summer, when she became an official spokesperson for CoverGirl.
"It's crazy still when people say, 'Oh, yeah, you're a CoverGirl,' and I'm like, 'Oh, wow, I am!' I don't think it's ever going to settle in. It' so surreal," she admits. "It didn't hit me that I was officially a CoverGirl until we did the last line. I'm looking into the camera with watery eyes [thinking], 'Oh, my goodness. I'm an easy, breezy, beautiful CoverGirl!'"
She released her EP, titled Play It Again, last summer as well, and since then, she has released singles alongside Pitbull, will.i.am and 3Ball MTY. Her first Top 20 hit in the United States came with a song she did on her own this year, called "Shower." The single reached No. 18 on the Billboard U.S. Mainstream Top 40 and peaked at No. 1 on the U.S. Heatseekers chart.
"'Shower' is a song based on the feeling of having that special someone, and they're literally just making everything just better," she describes. "Everything. Whether it's cleaning up the house or driving about the city."
The track was inspired by someone who was very special to her, so it just came about naturally at a studio session one day.
Becky G's ambitions and goals for the future are what keep her grounded. She's gotten the chance to work with Lopez, who she says is her idol, but would also love the opportunity to collaborate with other artists she admires, such as Bruno Mars, Katy Perry and Shakira. Acting in movies, she says, is also something she sees herself doing in the near future.
"Obviously I'm really thankful for everything that I've gotten to do and the people that I've gotten to work with," she says, "but I still feel like I'm barely scratching the surface of what I want to accomplish in my career. I'm still 'earning my stripes,' as they say, and working toward things. I feel like that moment of 'Wow, people are actually starting to recognize who I am' was when I did the 'Becky from the Block' music video. That's when I was like, 'Wow, OK, this is cool.'
Becky G is a firm believer in hard work and dedication, something that has put her where she is today and will be responsible for wherever her career may take her. She knows that there are many girls out there looking to make it into the business, just like she was a few years ago, and has some advice for them.
"My advice would be to stay focused," she says. "Stay focused, and never [stop growing]. Music is always changing and evolving, it's important for you as an artist to change, evolve and grow with it. So, continue to learn things and always be aware of everything. And, have fun. Don't forget the reason you got into it in the first place."
It's important to notice her advice didn't include any special secret or loophole to success. It's even a little bit cliché, but that's because there isn't any secret way into the business – she really does feel much of her success came down to her unrelenting perseverance and focus.
In July 2012, when she was 15, Kanye West gave Becky G props for her remix of his "Otis" collaboration with Jay-Z. Former "American Idol" judge and current judge on the "X-Factor," Simon Cowell echoed West's praise, calling her a "future star." Since then, her career has been on an upward trend, and the number of people who have sung her praises continues to grow.
Yes, the entertainment industry is a fickle business that can turn on even the brightest of stars virtually overnight. Trends change, music evolves and not everyone can stay on the train for the entire ride. But when you're Becky G and have two of the harshest critics in music gushing about your future, along with the focus and dedication to your craft that has already proven to be successful, arguing against them is a very tough sell.
Becky G performs Aug. 16 at Uforia Music Festival. Her latest single, "Shower," is currently available. For more information, visit iambeckyg.com.
Video Slider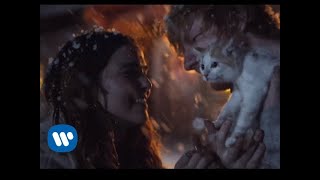 Win Tickets to See Ed Sheeran at the Rose Bowl
Ed Sheeran is back in Los Angeles, and your chance to see him perform is at the Rose Bowl in Pasadena on Saturday, Aug. 18. We are giving away complimentary tickets to the show. For a chance to enter to win, email us at
[email protected]
with "Ed Sheeran" in the subject line and tell us why you would like to go.