Dog Days Cast Discuss Their Roles in the New Family Friendly Comedy
Vanessa Hudgens in Dog Days (LD Entertainment)
Animal lovers may soon find themselves falling in love with the newest film from LD Entertainment, Dog Days.
In theaters Aug. 8th, the film stars not only some of the cutest dogs around, but also stars Nina Dobrev, Vanessa Hudgens, Eva Longoria, Finn Wolfhard, Adam Pally and more.
Directed by Ken Marino, the ensemble comedy center around multiple dog owners and their four-legged best friends as they live their lives in sunny Los Angeles.
As paths start to intertwine with the owners and their pups, their lives begin to change in ways they never imagined.
When it came to joining the film, all actors were dog lovers and jumped at the idea thanks in part to the script and animals involved.
For Hudgens, she said she completely related to her character, Tara.
"I read the whole script and thought it was so sweet," she said.
"The world is a crazy place and everyone needs a good laugh and a place where the whole family can go and enjoy something together."
Diving deeper into her connect with Tara, Hudgens explained, "When I woke up at 27 I felt like I had no idea who I was or what I was doing with my life and that's kind of where you meet Tara."
"I think in a sense, we are all kind of looking for our greater purpose."
As for Dobrev, the actress shared a similar sentiment when it came to describing her character Elizabeth.
"Everyone seems put together or tries to seem put together, but we're all quietly falling part on the inside and she's constantly trying to prove to the world that she's fine," Dobrev said.
"Even when she's heart broken, she doesn't trust anybody."
For the hilarious Adam Pally, his participation in the film was a result of his admiration and friendship with Marino.
"I got involved because of Ken, he is one of my idols from when I first started getting into comedy," he said.
"We worked together for a bit on "Happy Endings" and even if this was a cat movie, I still would have done it," Pally joked.
Also paying praise to Marino was Longoria who said she called the director to express her interest in being a part of the film.
"It was so great to have an actor/director because they speak your language," Longoria said of working with Marino.
"I knew I would be in good hands."
Perfect for the whole family, Dog Days is out in theaters now and tickets can be found at www.dogdaysthefilm.com.
Angela Ortiz contributed to this story.
Video Slider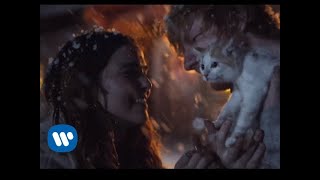 Win Tickets to See Ed Sheeran at the Rose Bowl
Ed Sheeran is back in Los Angeles, and your chance to see him perform is at the Rose Bowl in Pasadena on Saturday, Aug. 18. We are giving away complimentary tickets to the show. For a chance to enter to win, email us at
[email protected]
with "Ed Sheeran" in the subject line and tell us why you would like to go.