Dishing with Josh Gordon and Will Speck, the Directors of Office Christmas Party
Directors Josh Gordon and Will Speck at a screening of Office Christmas Party (Marion Curtis/Star Pix)
Even though the directors of Office Christmas Party know that having terrible work-related holiday parties is a nearly universal experience, neither Josh Gordon nor Will Speck has ever had the particular experience of an office party that their film depicts.
"We have both been to our share of terrible Christmas parties, but since neither of us have worked in a huge number of offices, we had this kind of fantasy of what the experience was and made the movie to experience the kind of party that we wish we could go to," explains Speck. "When you tell people that you're making a movie called Office Christmas Party, you'd be amazed by how many stories come out of the woodwork. You pull from a collective conscious experience."
The directors even knew someone who hired a person to be their girlfriend for the night, one of the subplots of this comedic extravaganza featuring Jason Bateman, Jennifer Aniston and cast members from nearly every current acclaimed comedy ranging from "Saturday Night Live" to "Veep" and "Silicon Valley."
When Gordon and Speck began planning the casting of Office Christmas Party, they knew they wanted to reunite with Aniston and Bateman, who starred in their previous film, The Switch, and then compiled their ideal choices for the sprawling cast.
"We sat in our office and put a bunch of photographs on the wall to lay out our most ideal, perfect casting," Gordon says, "and we got every single person. When we showed up to set we just kept pinching ourselves because we got exactly who we imagined from that wall."
Among those cast members are Kate McKinnon, whom the directors had the good fortune to catch right before Ghostbusters came out and her "Saturday Night Live" sparring with Alec Baldwin became so highly buzzed about, and Courtney B. Vance, the longtime character actor and recent Emmy winner for his portrayal of Johnnie Cochran. The scene-stealing comedic performance that McKinnon gives in the film should be no surprise, but Gordon and Speck also get Vance to do work far different from the heavy dramatic roles for which he is best known.
"We always knew we needed somebody with gravitas to play the character, and it couldn't be a comedian because you didn't want to see it coming. You wanted his character to be a surprise," Gordon explains. "We had been blown away by what he did in 'The People v. O.J. Simpson,' and had seen him years ago on Broadway in 'Six Degrees of Separation,' so we had always been fans of his dramatic work. We sort of knew that there was something playful and subversive underneath the surface. The great thing about Courtney is that he is incredibly trusting, and even though he hadn't done much comedy before, he allowed us to play with him and put him in ridiculous situations."
Also featured in the cast is T.J. Miller – perhaps best known for his role as Erlich Bachman on "Silicon Valley" – who plays the man-child head of the office that throws the titular party and is the sibling of Aniston's no-nonsense CEO.
"The idea of Jennifer having this loud, attention-grabbing sibling was funny to us, and a lot of people can relate to the type," shares Gordon. "It was funny to us to have her as this over-achiever who goes unnoticed compared to the guy who, no matter how much he messes up, still manages to fail upward. T.J. is not afraid of anything and loves messing with people, so we instinctually knew that him messing with Aniston would be fresh and fun to watch."
While the best-known directing teams in Hollywood may be siblings like the Coens and the Wachowskis, the collaboration between Gordon and Speck began when the two were at film school at NYU, where they started by writing each other's projects and then decided to co-direct. Such a team always has its pitfalls, but the pair is always able to work out any conflicts.
As Gordon explains, "We've found that if we don't disagree with each other on a project, we're not invested in it. Years ago we started encouraging more fights between us, although we do it privately and there's a lot of respect. We tend to plan very methodically so that by the time we're on set, we know what we're trying to accomplish.
As an inspiration for Office Christmas Party, both Gordon and Speck looked back to the classic comedies of the 1980s released during their formative years, citing works like The Blues Brothers, Trading Places and Risky Business, comedies that were both incredibly funny and complex technical achievements.
"We knew this would be a very logistically-complicated movie to establish unity of time with 400 extras on set, big stunts and chase sequences," says Gordon. "The movie has a certain scale to it. It was important to us that we didn't make a small movie. We wanted instead to make an epic movie about a universal experience that everyone has, so the filmmaking was as important as the comedy to us."
Office Christmas Party is in theaters Dec. 9.
Video Slider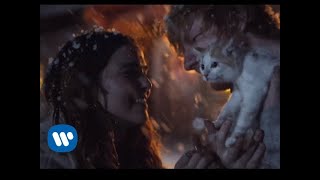 Win Tickets to See Ed Sheeran at the Rose Bowl
Ed Sheeran is back in Los Angeles, and your chance to see him perform is at the Rose Bowl in Pasadena on Saturday, Aug. 18. We are giving away complimentary tickets to the show. For a chance to enter to win, email us at
[email protected]
with "Ed Sheeran" in the subject line and tell us why you would like to go.