Lifelong friends, Daveed Diggs and Rafael Casal Discuss the Inspiration Behind Their New Film, Blindspotting
Daveed Diggs and Rafael Casal in Blindspotting (Lionsgate)
The result of two lifelong friends coming together to write an important tale of race, class and gentrification can be seen in theaters with the new film, Blindspotting.
Written by Daveed Diggs and Rafael Casal, the two also star in the film that centers around their characters Collin (Diggs) and Miles (Casal).
With just three days left until the end of his probation, Collin and his troublemaking friend, Miles, witness a police shooting.
Their friendship is tested as they must deal with their changed realities in the neighborhood they grew up in as it is quickly becoming gentrified.
The film has been in development for 10 years, said Diggs (perhaps known best for his role in the musical Hamilton).
Blindspotting is the feature film debut of director Carlos López Estrada and deals with some intense content.
All of which is incredibly important and in tune with current life as racism and the public perception of law enforcement is a never-ending issue that seemingly gets worse as the days go on.
While the film takes place in Oakland, people living anywhere can relate to it.
"You can't make a movie about Oakland and not talk about gentrification, so we just created the characters that we wanted to play and we let them live as honestly as possible," Diggs said of the inspiration behind the film.
Additionally, the characters were based on people the two knew when growing up.
"We wanted to make this film as sincere as possible," said Casal.
"It's such a sensitive mater because it's going to affect so many people that see the film."
"Most of the scenes in the film up to the climax, were events that we were in, or that a close friend told us about," he explained.
The men participated in a workshop called Bars (a lab series created by Casal and Diggs).
Of the experience, Estrada said, "It was essentially a workshop for actors, poets, and spoken word actors."
"That was the first time we worked together and incorporated music and included spoken word background along with the rapping and the dramatic acting."
As a result of their work there, Estrada stated, "I think we were able to work on this project and were able to deal with these disciplines and so it all came together and it all worked so beautifully."
Of working with both Diggs and Casal, Estrada said, "I considered David and Rafa to be my mentors for a very long time just because they were older than me and because they've been doing this longer than I have so I really respect their work and projects."
No matter who watches the film or what they've experienced in life, there is one thing that's for certain as Diggs explained.
"There's so much in life that we can't control, you can't control peoples perception of you or vice versa."
Audiences see the inner battle play out with both characters as, "One character in the film sees that and has come to accept that while on the other hand, we have another character in the film who doesn't care about how the world sees him and it really about finding the balance between those two characters," Diggs said.
Blindspotting is in select theaters now and will be everywhere starting July 27.
Marvin Vasquez and Joelly Vazquez contributed to this story.
Video Slider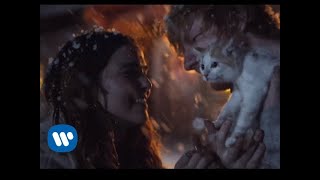 Win Tickets to See Ed Sheeran at the Rose Bowl
Ed Sheeran is back in Los Angeles, and your chance to see him perform is at the Rose Bowl in Pasadena on Saturday, Aug. 18. We are giving away complimentary tickets to the show. For a chance to enter to win, email us at
[email protected]
with "Ed Sheeran" in the subject line and tell us why you would like to go.