Director Luc Besson's Labor of Love, Valerian and the City of a Thousand Planets
Dane DeHaan, Luc Besson and Cara Delevingne team up for Valerian and the City of a Thousand Planets. (Daniel Smith/STX Entertainment)
Valerian and the City of a Thousand Planets may be yet another entry in the Hollywood canon of big-budget comic book films, even though its subject matter might not be as familiar to Americans as Spider-Man or Wonder Woman. Director Luc Besson did not draw inspiration from the exponentially expanding Marvel and DC Comics universes, but from a different source.
"I wrote the script over many months, and when I went to see Avatar, it was almost ready," Besson explains. "After I saw it, I put my script in the garbage and started again because Avatar just pushes all the limits. If you have to run with Usain Bolt, you may not win but still want to be second. Thanks to James Cameron, my script is much better. It's made by hand, with a lot of love."
The film was a labor of love for Besson, who commissioned drawings for the sets and costumes years before the film was ready to be in production.
"I wanted creativity totally without frontier. I wanted them to come back with the weirdest things. After I received about six thousand drawings, I started my puzzle. I started to think about my two actors, who are an unusual couple with an unusual hero. He's obviously not a Schwarzenegger type, maybe a little European in a way: fragile, kind of different and sometimes spoiled or pretentious, but I like that in the character."
The film stars Dane DeHaan of A Cure for Wellness and Cara Delevingne from Suicide Squad, but the scene that should earn the most notoriety is one featuring Rihanna, who plays a shape-shifting alien singer who performs an elaborate number for Valerian involving multiple costume changes.
"Rihanna was always my first choice, and I was lucky because right now she really wants to play, to be an actress and to be in movies, and the film arrived at the perfect time. She was exceptional. It is difficult to get her on set because she goes around the world three times each day, but when she's there, and her entire entourage is off set, and she's by herself, she is very focused and asks you to direct her, which for a director is a dream. This one three-minute scene was six days of work and a month of preparing the costumes."
Besson even jokes, "She has more outfits in the scene than I've worn in the past 10 years."
Valerian and the City of a Thousand Planets has long been an obsession for Besson, who began reading the 29 volumes of the series when he was a child. His one worry after casting DeHaan and Delevingne was that, although he knew they could individually play Valerian and Laureline, respectively, he wanted to make sure that the chemistry between the actors was correct.
"My fear was to see them together, because sometimes you have a case where both are perfect for a role, and yet you put them together, and they don't match. I tried to organize the day they met because I wanted to be there to see it, but then Cara called me and told me that she went to a meeting and saw Dane there. I asked both about it, and they both said it was fine. They wouldn't give me anything!"
One of the most complex scenes in the film involves Valerian and Laureline visiting a multi-dimensional alien marketplace, where Valerian has to exist in two dimensions at once. Besson attempted to explain how this would work on film, but even the actors could not quite grasp how the scene would proceed. To get the cast and crew to understand his vision, Besson hired students from a film school in Paris and had them perform in a pre-visualization of the scene.
"We did 600 storyboards for the wall, rented a studio for three weeks and shot every shot from the desert vision to the helmet vision to the merchant's dimension. When we finished the editing, each had a slightly different color, and when you finally watch it, you know exactly what is going on. Two months later, everyone finally understood."
While the film is a comic book space adventure, Besson wanted to ensure that it still handled some of the weightier subject matter, which includes ethnic cleansing and the treatment of immigrants. It was important that the message be included, but subtle enough that it permeated the film instead of dominated it. He compares it to a previous film of his, Arthur and the Invisibles, which had a pro-ecology message.
"A friend of mine called me and told me that, after seeing the film, his kids refuse to walk on the grass. I was so excited, because children are like sponges. Kids are going to watch this film, and they're going to think about Rihanna being an immigrant and almost like a slave in a way. And I love that. I love talking to children, but if you speak to them straightforwardly, it doesn't work. It's this way that we might elevate the consciousness of the young."
Valerian and the City of a Thousand Planets is in theaters July 21.
Video Slider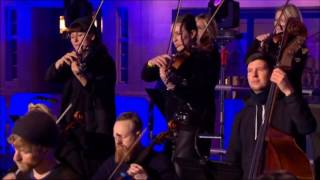 Win Tickets to See Pete Tong at Hollywood Bowl
Pete Tong is back in Los Angeles, and your chance to see him perform is at Hollywood Bowl on Thursday, Nov. 9. We are giving away complimentary tickets to the show. For a chance to enter to win, email us at
[email protected]
with "Pete Tong" in the subject line and tell us why you would like to go.