Director Jennifer Yu Nelson and Actor Skylan Brooks Discuss The Darkest Minds
(l-r) Skylan Brooks, Miya Cech, Amandla Stenberg and Harris Dickinson in The Darkest Minds (20th Century Fox)
From the producers of "Stranger Things" and Arrival, audiences will be introduced to the newest Sci-Fi thriller, The Darkest Minds.
Out in theaters Aug. 3rd, the film is packed with action scenes and amazing CGI work.
Directed by Jennifer Yuh Nelson, The Darkest Minds is based on a novel (of the same name) by Alexandra Bracken.
Starring Bradley Whitford, Mandy Moore, Amandla Stenberg, Skylan Brooks, Miya Cech and more, the film depicts a world in which 98% of the youth are killed due to a disease.
The 2% that survive end up mysteriously developing powerful abilities and are declared a threat by the government and are detained.
As a result of their power, adults fear anyone under the age of 18, forcing teens to form a resistance group.
After escaping, 16-year-old Ruby (Stenberg) seeks safety with a group of runaways and they fight for their futures.
The film features extensive CGI work and for Skylan Brooks who plays Chubs, he took plenty of notes from his cast mates as he didn't have much experience with it.
The actor said the most challenging part of filming was getting into the right headspace for his character.
"Finding the motivation for Chubs in each scene, I didn't know where to tackle him," said Brooks.
"There were so many ways to say something and make it make sense for myself," he continued"
"Jennifer helped a lot with getting that out correctly in a way where it came across as natural."
Because the film focuses heavily on strength and the power to regain one's freedom and control, Nelson said she hopes audiences take some of that with them once they leave the theater.
"I wish people would take away some bit of encouragement and a sense of empowerment to sort of take charge of their lives," she said.
"I think there's a lot of crazy stuff happening in the world and there's a lot of things people have to deal with and I think if there's a sense of empowerment, that's a really good thing,"
As for the process of making the film, she described it as being almost too much fun to make.
"Everyone was so comfortable with each other and felt safe with each other and there was collaboration and experimentation and I think that's the part that was really amazing to see," she said.
"Being on set was so good and that's the part that's hard, because when it's over, its tough, we really enjoyed making this film together."
Both Brooks and Nelson described the cast as one big family who bonded throughout filming.
"I really found some solace being on set," Brooks said.
"This is home."
For viewers, the chemistry amongst the cast may be visible as Nelson said, "I think the sense of family that comes through in the performances is very real because they literally were like that."
For fans of Sci-Fi, The Darkest Minds may be a film to check out in theaters starting Aug. 3rd.
Marvin Vasquez contributed to this story.
Video Slider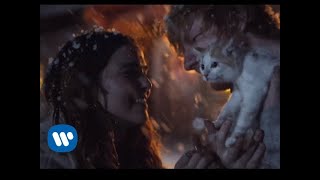 Win Tickets to See Ed Sheeran at the Rose Bowl
Ed Sheeran is back in Los Angeles, and your chance to see him perform is at the Rose Bowl in Pasadena on Saturday, Aug. 18. We are giving away complimentary tickets to the show. For a chance to enter to win, email us at
[email protected]
with "Ed Sheeran" in the subject line and tell us why you would like to go.