Decadent Bites at Los Angeles Food & Wine's Lexus Grand Tasting
Chef Tomas Mendez of Picca had the best seafood dish of the day with a seabass ceviche. (TJ Webber/LOL-LA)
After kicking off the sixth-annual Los Angeles Food & Wine Festival Thursday night in Downtown, the fine-dining showcase continued this afternoon at the Lexus Grand Tasting event. The Barker Hangar at Santa Monica Airport was filled with wine and food lovers, sleek Lexus vehicles and booths displaying some of the world's best wines and bites from over 20 celebrity chefs.
My game plan was to stop at each booth starting to the right of the entrance and moving in a counter-clockwise direction, but it was impossible to stick to once my eyes caught the word 'cheese' and my nose detected the delicious funk emanating from the Lexus Cheese Shoppe. I made a beeline for the counter adorned with Vermont Creamery's Bijou, Carr Valley Cheese Company's Cave-Aged Marisa, Face Rock Creamery's 2-Year Cheddar, Roth's Grand Cru Surchoix and Point Reyes Farmstead Cheese Company's Bay Blue.
Cheese expert Laura Werlin had a pairing menu posted, so I knew exactly which wine to drink with these fabulous cheese. Complicated's 2014 Chardonnay was a lovely accompaniment to a slice of my favorite cheese, Cowgirl Creamery's Mt. Tam, and a square of TCHO's Dark Milk Chocolate. Werlin continued the sweet meets savory theme in her dish for the day: Jammin' Grilled Cheese filled with brie and chocolate.
Luckily the chef I was most anticipating a taste of food from today, Chicago's Stephanie Izard (the first female chef to win "Top Chef" in season 4), was right next to Werlin. Izard's Marinated Shrimp with Miso Blue Cheese Aioli was a unique and successful blend of flavors, the perfect bite to stimulate my appetite.
Three other "Top Chef"/"Top Chef Masters" alumni were featured at the Lexus Grand Tasting, and each served cold and refreshing dishes. Marcel Vigneron of Wolf had two raw dishes (Laughing Bird Ceviche, Hamachi Crudo), and Ted Hopson of the Bellwether made a Avocado Gazpacho with marinated shrimp, peanuts and herbs. The best of the three was Brian Huskey's Shrimp "Michelada" Ceviche that he said is on the menu at his restaurant in Orange County, Tackle Box. It had a great balance of chile and lime, accentuated by the sweetness of the cucumber and jicama pieces and salty fried tortilla strips.
Next I debated whether to go with another white wine or the 2013 Pinot Noir from Hanzell Vineyards, which promised notes of blueberry, plum, cocoa and brandied cherries, but ended up choosing bubbles, of course! Gancia's Pinot di Pinot sparkling rosé went great with Chef Sean Chaney of Hot's Kitchen in Hermosa Beach luxurious Hudson Valley Foie Gras Mousse with Vanilla Bean and Peach Jam atop Melba Toast, as well as Chef Shane Hosac of Mari at the Intercontinental's Thai-flavored New Zealand Salmon Ceviche.
There was more seafood to be had from the Lobster (a lobster and shrimp sausage), Union in Pasadena (delicious grilled octopus over Koda Farms chickpeas), Sacramento's Chef Billy Ngo (snow crab sushi over avocado mousse) and Chaya Catering (a special Sea Urchin Ice Cream Monaka, as well as smoked scallop sashimi with Yuzu, mango and apple salsa). My favorite seafood dish of the day was from Chef Tomas Mendez of Picca: a Ceviche Criollo with seabass, rocoto, leche de tigre, choclo (Peruvian corn), canchas (toasted corn) and sweet potato.
While Soylent had three interesting concoctions and Hendrick's Gin was mixing up an Unusual Negroni, I wanted to finally try the rosé from Miraval as I moved into the heavier fare. It was the right amount of sweet and refreshingly acidic – exactly what I look for in a rosé. It stood up well to Phorage's Vietnamese Pork Meatball. La Vecchia Cucina's Chef Mark Mollica lovingly described his Portobello Mushroom & Truffle Ravioli to the crowd, even holding up a black summer truffle so a diner could inhale its aroma.
Chef Robert Irvine from the Food Network posed for photos with fans, while his crew dished up Buttermilk & Sriracha Southern Fried Chicken and a Kimchi Deviled Egg. Despite the bold flavors promised by the dish's name, it wasn't super spicy. Chef Evan Funke of Felix chose to go the simple route with a slice of focaccia topped with lardo, while Eagle Rock Public House's Shrimp Fry Bread with picked corn and okra was full of spice. My favorite of the heavy proteins came from Belcampo Meat Co. (where you can get my No. 1 pick for a burger in the city). A glorious chunk of organic braised pork belly was paired with picked grapes, cucumber, okra and mouse melon.
There was a big space dedicated to NFL Homegating, where you could tell a staff member your favorite football team, and they would instruct you on creating a slider that was representative of said team. I decided to forego a slider to partake of some desserts instead.
First up was the Bree's Cakes table where Bree Miller was instructing festival-goers on how to eat her quartet of caketails (mini cupcakes with a cocktail shot stuck in the top). There was a Jack & Coke chocolate cupcake, Margarita lime cupcake, Pina Colada pineapple coconut cupcake (which I liked the most) and Birthday Cake Martini vanilla confetti cupcake.
Also serving up some sweets was Chef Barb Batiste of B Sweet. You could have a shot of Nitro Cold Brew Coffee or Matcha to go along with Bananas Foster Bread Pudding, S'mores Bread Pudding or, my favorite of the three, Ube with Buko Pandan Drizzle Bread Pudding. The ube (purple yam) reminded me so much of the use and macapuno ice cream I always begged my mom to buy at the Filipino store when I was young. Reminiscing on the childhood food memory put a big smile on my face as I left Barker Hangar, already excited for next year's Los Angeles Food & Wine Festival.
For tickets and more information on Sunday's Lexus Grand Tasting, visit lafw.com.
Video Slider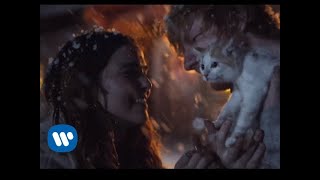 Win Tickets to See Ed Sheeran at the Rose Bowl
Ed Sheeran is back in Los Angeles, and your chance to see him perform is at the Rose Bowl in Pasadena on Saturday, Aug. 18. We are giving away complimentary tickets to the show. For a chance to enter to win, email us at
[email protected]
with "Ed Sheeran" in the subject line and tell us why you would like to go.