David Newman to Lead LA Phil in Its Performance of John Williams' Iconic Scores for Star Wars and The Empire Strikes Back
Mark Hamill, Carrie Fisher and Harrison Ford in The Empire Strikes Back (20th Century Fox)
This summer at the Hollywood Bowl, David Newman will lead the Los Angeles Philharmonic in its performance of John Williams' iconic scores for Star Wars and The Empire Strikes Back. There are few people who can claim to be part of a Hollywood dynasty stretching to the Golden Age of Hollywood, but Newman, who himself has composed the scores for over a hundred films and was nominated for an Oscar for the 1997 animated film Anastasia, is one of them. His father Alfred was one of the preeminent composers of old Hollywood, scoring classics such as Wuthering Heights and All About Eve, his brother is known for the scores to American Beauty and The Shawshank Redemption, his uncle Lionel scored Hello, Dolly! and his cousin Randy regularly scores Pixar films and writes the songs for them.
But despite Hollywood film scoring being the family business, David Newman did not plan on following in his famous family's footsteps. "To be a film composer, it wasn't a moment," he explains, "I was on a classical music track as a violinist. I worked professionally for ten years during my twenties and played on lots of film and television and I loved it but little by little I had no interest in it. Then I started gaining an interest in composing for movies, but I didn't go to school for it. Then I started gaining an interest in composing for movies, but I didn't go to school for it. I just got my bachelors and masters in TV and film at USC and then after that it was really a battle of finding my voice for about four years until I became what I am today."
Given his family history in film composing, Newman is well aware of how the industry has changed, not only in his three decades as a composer, but since his father essentially helped define music in film. "My father Alfred Newman was one of the original five or six guys who figured out what film music was, and it took them about nine years. So by 1939, that's the years of Gone With the Wind and The Wizard of Oz, and that was that until the industry sort of collapsed, primarily because of the television industry. Then music changed in the sixties, and it became a little more jazzy and more pop. Then along comes Jaws and then the real turning point was Star Wars, which really changed everything overnight. After that, everything was adventurous, and that carried over to the eighties and even until now."
Along with performing the scores to the Star Wars trilogy, Newman will also be joining John Williams himself on stage for three nights at the Hollywood Bowl, and he heaps praise on the iconic composer behind those films and the bulk of Steven Spielberg's work. "John has honored me with this for the last couple of years and he's like family. And none of this would be possible without him and his amazing work and talent."
Newman works both as a composer and, as with his performances at the Bowl this summer, as an orchestra conductor, and appreciates both for different reasons. "I like conducting because it's communal and you're with other people, while composing is lonely," Newman opines. "But there's nothing like composing. When you successfully make something for a film that works beautifully, there's nothing more rewarding than that sense of accomplishment. Also, you get to work with so many talented people, and almost no one in the film industry is nonchalant about it. It's an industry that demands passion, industry and artistry. You don't succeed all that much because it is difficult to do that, but it's the aspiration and I love that! I love how accomplished the costume designers and the editors and the directors are. They all have their own history and their own interesting way to tell the story. When making a film, you have to give it what it needs, not what you want it to need, so in a sense it comes to life and there's no better feeling than that.
After conducting Jaws at the Bowl in the same way that he will perform the Star Wars trilogy, Newman knows just how exciting the performance can be for both him as conductor and for the audience. "It's thrilling! I love that all this music is altered in its own original context. We play the music to the movie, and just mute the music on the soundtrack and play it live. I love Jaws, along with all of the other movies I've conducted. It's something that I really love, I write for a bit then I conduct, then I write. The one feeds the other."
"I'm doing two performances for each movie," Newman says about his performance of Star Wars and its beloved sequel. "To us, it feels like a gift to the audience. You can feel the excitement in the audience. It's interesting to receive the feedback from the audience because we get to see what they felt in the beginning and what they thought. Were they watching the orchestra? Were they watching the movie? It's a very festive event and you can feel it in the atmosphere."
David Newman will lead the Los Angeles Philharmonic in performances of Star Wars on August 7 and 10, and The Empire Strikes Back on August 9 and 11 at the Hollywood Bowl. He will then conduct with John Williams in a celebration of Williams's fortieth anniversary at the Bowl from August 31 through September 2.
Marvin Vasquez and Joelly Vazquez contributed to this story.
Video Slider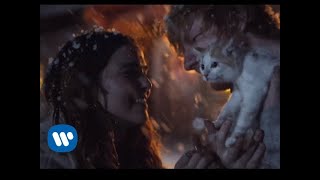 Win Tickets to See Ed Sheeran at the Rose Bowl
Ed Sheeran is back in Los Angeles, and your chance to see him perform is at the Rose Bowl in Pasadena on Saturday, Aug. 18. We are giving away complimentary tickets to the show. For a chance to enter to win, email us at
[email protected]
with "Ed Sheeran" in the subject line and tell us why you would like to go.