Dance Camera West Presents 13th Annual Dance Media Film Festival "Restructure"
BODYTRAFFIC Dance company with Gustavo Godoy's large scale "Restructure" sculpture, a co-commission from Dance Camera West and the Music Center (Erich Koyama)
Every year since 2001, Dance Camera West (DCW) has held a celebration of dance through film screenings, live performances and architectural art in the heart of the city. With the 13th annual festival's theme of "Restructure" comes the debut of a specially commissioned sculpture by Gustavo Godoy and a jam-packed schedule of events over this weekend and June 13.
The festivities begin on Friday evening with a collaborative piece involving Godoy's large-scale sculpture and Los Angeles dance company BODYTRAFFIC at the Music Center Plaza. Films screen throughout the festival at MOCA, REDCAT and Grand Park, and touch on topics from traditional ballet and ritual dance to fantasy creatures and inspiring dance pioneers from around the globe. DCW's third-annual Dance-A-Long at Union Station on June 13 concludes this year's programming.
Amidst preparing for "Restructure," Tonia Barber (executive director of DCW) graciously took some time to answer questions about this year's festival for Living Out Loud.
Living Out Loud: Was there one film in particular that originally inspired DCW's creation?
Tonia Barber: Dance Camera West was inspired by dance films screening in Amsterdam by founder Lynette Kessler. Upon her return to Los Angeles, she learned that a dance-on-screen festival was in New York and decided to create something similar. Our films continue to be from around the world and also cross-pollinate with Hollywood by creating premieres for such films as Pina, First Position, Afternoon of a Faun, etc.
LOL: How would you describe the festival to someone who has yet to experience it?
TB: Dance Camera West is a visual feast for the eyes and soul. Our films show dance at its most intimate level. With adding live performances before the screenings, it is a full visceral experience for the soul. We are also proud to be a festival that has many female directors.
LOL: With "Restructure" being the theme for this year's festival, are any new features to be expected?
TB: We co-commissioned, with the Music Center, a sculpture by Gustavo Godoy that will be danced on by the Los Angeles company BODYTRAFFIC, as well as a restructured take on "The Rite of Spring" by Los Angeles Contemporary Dance Company commissioned by Grand Park.
LOL: Is there one film in this year's festival that especially touched you?
TB: There is a short film in our Opening Night program called "Demand For Love." It is a dance between a woman and a little girl. As a mother, I was in tears. It is truly an inside look at that intense bond of parenting. Also, our festival is non-violent and non-sexual, so we are very family-friendly. My three small children and many of their friends attend.
LOL: Can you tell our readers a little about what to expect from the collaboration between Godoy and BODYTRAFFIC?
TB: The sculpture is one to personally experience. BODYTRAFFIC is a wonderful company that will be performing the work of Victor Quijada, a choreographer native to the Los Angeles hip-hop scene, but now calls Montreal his home. He has worked with many top companies such as THARP!, Ballet Tech and Les Grand Ballets Canadiens de Montreal.
LOL: Aside from film screenings and dance performances, what other programming can festival-goers enjoy this year?
TB: REDCAT will be a lot of fun, with an interactive installation where one can make up their own dance through the computer and then have dancers perform the dance through projection. The documentary UPAJ:Improvise will have a great surprise after the screening.
——————————————————————————————————
What: Dance Camera West
Where: The Music Center, Grand Park, REDCAT, MOCA and Union Station
When: June 6-8 and 13
Tickets: Free-$15
Contact: DanceCameraWest.org
Video Slider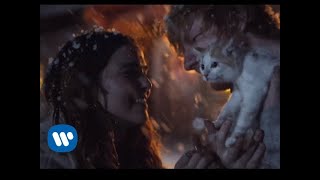 Win Tickets to See Ed Sheeran at the Rose Bowl
Ed Sheeran is back in Los Angeles, and your chance to see him perform is at the Rose Bowl in Pasadena on Saturday, Aug. 18. We are giving away complimentary tickets to the show. For a chance to enter to win, email us at
[email protected]
with "Ed Sheeran" in the subject line and tell us why you would like to go.