Compadres Brings America and Mexico Together with a Bang
Omar Chaparro as Garza and Erick Elias as Santos in Compadres (Pantelion Films)
Mile-high explosions, pulse-pounding car chases, slow motion shootouts – these are all familiar staples of the big-budget action movie, a genre thought to be as American as apple pie. But in today's increasingly small world, international film markets have grown manifold in both resources and audience-size, thus allowing other countries to put their own unique spin on traditionally U.S.-based styles of entertainment. Enter Compadres: a bold new Mexican-American co-production which marks the first large-scale Spanish-Language action film to hit theaters stateside.
Radio personality and comedy superstar Omar Chaparro stars as hard-boiled Mexican cop Garza, whose honor-bound life is shattered by the murder of his partner at the hands of vicious drug lord Santos (Erick Elias). Garza seeks comfort in the arms of his new girlfriend María (Aislinn Derbez), but their burgeoning romance is cut short when Santos kidnaps his beautiful lady, forcing Garza to break him out of prison if he wants to see her alive. Unjustly imprisoned for this "crime," Garza finds himself doubly betrayed as Santos holds onto Maria as an insurance policy anyway.
In his quest for revenge, Garza travels to Los Angeles to locate a notorious "accountant" responsible for stealing 10 million dollars from Santos. He is flabbergasted to discover that said accountant is, in fact, chubby 17-year-old hacker Vic (Joey Morgan). Almost immediately, the two find each other at odds, owing to divides in language, culture and age. However, as Santos' crew of vicious mercenaries, as well as an FBI Agent come after the odd couple, Garza and Vic realize that their unique skill sets make them a formidable team. Along the way, they find another ally in Emilia (Camila Sodi), a lovely ex-con who Garza once put away.
What follows is a wild romp through the Southwestern U.S., as Garza and Vic outwit the baddies and race against the clock to save Maria. The storytelling is tight, the stunts electric and the performances filled with exuberant energy. Compadres is the kind of action picture that American studios don't make anymore.
Says actor Joey Morgan, "This film reminds me of a retro action film, Lethal Weapon or Die Hard, not a super hero running around in tights. It's about normal people trying to figure things out. It's not too gritty, and it has a classic kind of light heartedness."
Despite the movie's buoyant feel, director Enrique Begne (Dos Abrazos) took the process quite seriously.
"[Begne] takes a lot of time for his scenes … it was a slow shoot process because he's a perfectionist," states Aislinn Derbez. "He takes care of every single detail himself. He's very meticulous."
That sense of preparedness extended to the action scenes as well.
"The effects were incredible on set," continues Derbez. "We had multiple trainers for handling the weapons."
Omar Chaparro confirms: "We rehearsed for probably a full three months just for the action stunts."
Nevertheless, Begne did allow for improvisation during more comedic scenes.
"Every day Omar and I tinkered with things on the fly," claims Morgan. "Begne wanted to make sure the language was fluid in terms of English to Spanish, and that everything felt right for the characters. Every scene we changed somehow."
Even whole scenes were made up in the spur of the moment at times, including a sequence wherein Garza and Vic sing along to "Puto" by Molotov.
"It wasn't in the script at all," says Chaparro. "We were just driving, and I started singing the song. [Begne] liked it and said, 'keep rolling!'"
Compadres has more going for it than sheer visual shock and awe: the film marks a revolutionary step forward for the Mexican film industry by extending a progressive olive branch to Spanish and English speakers alike.
"The original writer was Ted Perkins, who is an American," explains Morgan. "Then later the script got to [Mexican production company] Pantelion … then in to [Begne]. So you're dealing with a project that worked with a lot of American culture and then had that Hispanic twist to make sure it was culturally real. That's why you see both Hollywood all-stars and Mexican-all stars [in the movie]."
In addition to its worldly spirit, Compadres also contains a healing message for Mexican audiences at home.
"It's very important at this moment in time to see a message of unity in Mexico regarding the police," argues Camila Sodi. "[The film] shows them as allies of the people, not corrupt."
With a positive message, high production values and lovable stars, Compadres seems destined for box-office heights. In fact, plans are allegedly in the works for a sequel, driven by the film's female stars.
"[We're] super badass," pronounces Sodi. "Compadres [the sequel] will be like Thelma & Louise on steroids."
Regardless of what happens, Compadres makes one statement loud and clear.
As per Morgan: "Today's culture moves fast. You open the door to a fusion of cultures."
Compadres is in theaters April 22.
Video Slider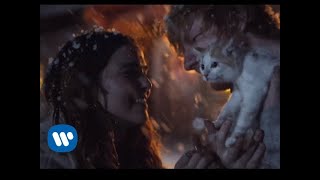 Win Tickets to See Ed Sheeran at the Rose Bowl
Ed Sheeran is back in Los Angeles, and your chance to see him perform is at the Rose Bowl in Pasadena on Saturday, Aug. 18. We are giving away complimentary tickets to the show. For a chance to enter to win, email us at
[email protected]
with "Ed Sheeran" in the subject line and tell us why you would like to go.