Cirque du Soleil Presents "SEP7IMO DIA – No Descansaré" at the Forum
Cirque du Soleil's "SEP7IMO DIA - No Descansaré" (Courtesy photo)
Innovation, excitement and all around positive vibes can be expected from the newest Cirque du Soleil production, "SEP7IMO DIA – No Descansaré."
Premiering at The Forum in Inglewood from May 3rd to May 6th, the show is inspired by the iconic Latin rock band, Soda Stereo.
Since having been formed in the 80's, the Argentian band, made up of members Gustavo Cerati (voice and guitar), Hector "Zeta" Bosio (bass) and Charly Alberti (drums), became one of the most influential and best selling bands in Latin America.
Known for their immense energy and sounds, it's safe to say, their music combined with Cirque du Soleil will keep audience members dancing and cheering along.
Writer and Director, Michel Laprise, created a world in which the music and rhythm of the band's songs are interpreted by dance, acrobatics and various visuals.
With a cast of 36 performers, fans of the band will get to experience their legacy in an entirely new way than ever before.
"No Descansaré" is the first Cirque du Soleil show that features a sector, which gives the audience a chance to be at the core of the energy. The "Zoom Zone" lets fans actually stand.
Acts like "Hombre Al Agua (Man Overboard)," depict the act of songwriting, whilst submerged in water.
"Luna Roja" gives a throwback to the iconic hairstyles that Soda Stereo were known for rocking throughout their career.
A solo artist performs a dance, suspended only by her hair.
Whether show-goers are well versed with the band or not, it'll still be a thrill of a night filled with amazing talent and great music that can be appreciated by all.
Tickets for "No Descansaré" are available for purchase at www.cirquedusoleil.com, with tickets starting as low as $55.
From trapeze artists to balancing acts and more, make sure you don't miss out on "SEP7IMO DIA – No Descansaré."
Video Slider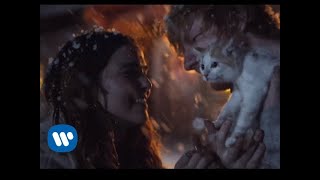 Win Tickets to See Ed Sheeran at the Rose Bowl
Ed Sheeran is back in Los Angeles, and your chance to see him perform is at the Rose Bowl in Pasadena on Saturday, Aug. 18. We are giving away complimentary tickets to the show. For a chance to enter to win, email us at
[email protected]
with "Ed Sheeran" in the subject line and tell us why you would like to go.