Christine Davila Discusses Ambulante California, A Film Festival for the People
Ambulante California screens documentaries in venues such as Pershing Square in downtown Los Angeles.
For Christine Davila, the Director of Ambulante California, the international traveling film festival first started by Y Tu Mamá También stars Gael García Bernal and Diego Luna, film festivals should not be the province of the wealthy establishment who make up most of the crowds at these events.
"Film festivals tend to be elitist, sadly," she says, having experience working at Sundance and Tribeca. "There's always a cost of admission, they always take place in one exclusive setting, and Ambulante is the antithesis of that."
The festival, which premieres in Los Angeles Sept. 19 and runs through the beginning of October, offers free viewings to those who attend and takes place in varied locations.
"We bring films to people who may not have the luxury of being able to attend fancy, highbrow cultural events," Davila exclaims.
Before becoming head of the California division of the festival, Davila learned about Ambulante when she was traveling to film festivals in Mexico and was so impressed by the radical nature of the traveling festival that she began sending them recommendations on films. Three years ago, Elena Fortes, who co-founded the festival along with Bernal and Luna, asked her to extend Ambulante (which has festivals in Colombia and El Salvador as well as its beginning in Mexico) to the United States.
"Of all the film festivals that I mentioned," Davila says, "Ambulante is really the most radical and rogue. It's really for the people."
Davila cites the vision of Bernal and Luna as part of the success of Ambulante.
"They're very much the spiritual guide, and of course their profile gives us visibility. It's really tough out there for non-profits, so that kind of ambassadorship is crucial," she says of the pair.
According to Davila, Bernal and Luna call Ambulante "the most pure thing that they do and that gives them the most gratification, because it's not theirs anymore, it's everyone's."
An audience at Sundance may be the wealthy who can afford to attend, but Ambulante offers showings at locations like Pershing Square and a Pasadena Food Co-Op.
The Ambulante film festival may have a populist outlook, but the subject matter would be familiar to the elite crowds who normally populate film festivals. The documentaries that premiere at the fest tackle such subjects as women in the workforce and reproductive rights, and although Davila notes that these are the types of issues that are frequent conversations in her own social media feeds, the most exciting thing about the festival's films is the form, rather than the subject matter.
"Documentaries are becoming more creative and experimental, and filmmaking is blurring the lines between fact and fiction, so there are a few documentaries that explore that, as well," she says.
Of the festival's many feature-length documentaries, she has high praise for The Nightmare, a horror documentary whose subject matter diverges from the typical social issues that documentaries normally tackle. Subtly switching from the serious-minded documentary curator to the pose of a horror showman that would make George Romero proud, Davila tells how the documentary brings to light the phenomenon of sleep paralysis.
"Social issues really bring people together, but so does fear," she says, "There are many people who can relate to having that experience of being half asleep and thinking someone is in your room, looming over you, and your life is in danger but you can't move. It gives me chills just thinking about it."
The film premieres on Oct. 2 in a hilltop park overlooking Baldwin Hills on the closing weekend of the festival.
As well as running Ambulante California, Davila also runs the blog Chicana From Chicago, which attempts to spotlight up-and-coming Latino talents. In keeping with her focus on Latino filmmakers, Davila has special praise for documentarian Carlos Hagerman, whose film No Place Like Home tells the story of Hegerman's parents, who have spent 40 years teaching indigenous children from a small Mexican village. Davila holds particular praise for how Hegerman gives the film social context in a way that would engage even those not interested in such issues.
"Mostly what happens with documentaries is that the people who are invested in that subject see that movie, but the most powerful and effective thing is when you slide the issues in, because you're focusing on family, or humor, or the visuals," she says.
For Davila, the documentaries that earn effusive praise are those that can change the viewer's perception of a topic. She cites two documentaries from 2013 as examples of this: Blackfish, the documentary exposing the cruelty toward the animals at Sea World, and Who is Dayani Cristal?, about the journey of a migrant from Honduras that features Bernal.
Both of those documentaries earned accolades from the type of elite Brooklyn audiences who listen to NPR and eagerly anticipate the latest project by Michael Moore. Christine Davila may discover the next popular documentary at Ambulante, and when the festival does find that breakout success, it can credit it as much to Echo Park as it does to Park Slope.
For more information, visit ambulanteusa.com.
Video Slider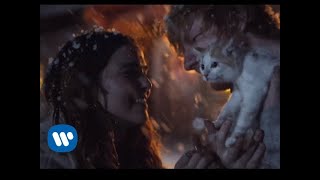 Win Tickets to See Ed Sheeran at the Rose Bowl
Ed Sheeran is back in Los Angeles, and your chance to see him perform is at the Rose Bowl in Pasadena on Saturday, Aug. 18. We are giving away complimentary tickets to the show. For a chance to enter to win, email us at
[email protected]
with "Ed Sheeran" in the subject line and tell us why you would like to go.