Choreographer Cherice Barton Discusses Aspen Santa Fe Ballet's World Premiere of "Eudaemonia" at VPAC
Pete Leo Walker and Katherine Bolanos in Aspen Santa Fe's "Sleepless" (Courtesy of Rosalie O'Connor)
Later this week, Aspen Santa Fe Ballet (an acclaimed contemporary ballet company) is to perform "Eudaemonia" by Cherice Barton, "Little mortal jump" by Alejandro Cerrudo, and "Sleepless" by Jiří Kylián at the Valley Performing Arts Center at California State University, Northridge.
But only Barton's piece is a world premiere.
The Los Angeles-based ballet choreographer, who also provides commercial and concert choreography, comes from a family of dancers.
"It's very rare," says Barton, admitting that three sisters having successful artistic careers does not come often.
"We started when we were very young. Our parents were always supportive," Barton continues. "At three or four years old we already were at the dance studio. And we just went with it."
Barton's performance career sports over 20 years of experience in over 30 countries across six continents.
In 2015, Barton choreographed the appearance of pop music singer / songwriter Katy Perry at the Staples Center in downtown Los Angeles for the 57th Grammy Awards.
"It was a pretty wild experience," says Barton, who recently joined the creative team of "America's Got Talent" as Choreography Associate. "There is so much that goes into putting on a show like that…I learned a lot from that experience."
Now, Aspen Santa Fe Ballet is scheduled to unveil the world premiere of "Eudaemonia" – a piece like no other before that took about five weeks to create.
"The Aspen Santa Fe Ballet is a tremendously talented group of dancers," says Barton, who about a year ago begin collaborating with ASFB. "It was a match meant to be; we are very compatible."
Barton mentions "Eudaemonia" (Greek for "human flourishing") carries a total of nine dancers.
"It has a lot of perspective," she says. "People will immediately relate to the characters that are on stage. I like to have humor and emotion in my work."
This year's performance of Aspen Santa Fe Ballet is the second of VPAC's three-year residency with the company.
"This second year of our three year residency with Aspen Santa Fe Ballet is especially significant as it marks the world premiere of Cherice Barton's new work, which VPAC co-commissioned," says Thor Steingraber, Executive Director of VPAC.
He continues, "We are proud to tap a Los Angeles-based choreographer for this commission, especially one as versatile as Cherice. Her choreography is perfectly suited to the dancers, their technical excellence as well as their personalities. The piece has a nod to Hollywood in it too. In addition, we are also presenting works from world-renowned choreographer Jiří Kylián, as well as Alejandro Cerrudo, whose breathtaking piece, 'Silent Ghost,' was in our program last year. This is an outstanding trio of 21st century dance makers."
The sound design for "Eudaemonia" is by Jeremy Jurin (Barton's husband).
"That's what makes this creation even more special to me," Barton acknowledges.
Aspen Santa Fe Ballet dances away on Friday, March 3rd at Valley Performing Arts Center at California State University, Northridge at 8 p.m. Tickets range from $33 to $75. For more information, visit valleyperformingartscenter.org.
Video Slider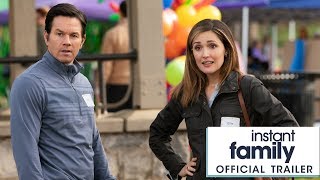 Win a Blu-ray + DVD + Digital Copy of Instant Family
Everyone everywhere can now enjoy Instant Family on Digital and on Blu-ray™ Combo Pack, and DVD on March 5 from Paramount Home Media Distribution. For a chance to enter to win at random, please email us at
[email protected]
with "Instant Family\" in the subject line and let us know why you\'d like to win a copy. This contest ends March 25, 2019.