Chino & Nacho Chat About Their New Single, "Andas En Mi Cabeza"
Nacho (Miguel Ignacio Mendoza) and Chino (Jesús Alberto Miranda Pérez)
Even if you're not Venezuelan, if you're a reggaeton fan you undoubtedly recognize the names Chino (Jesús Alberto Miranda Pérez) and Nacho (Miguel Ignacio Mendoza). The two vocalists got their start in the popular boy band Calle Ciega, but since the 2008 release of Época de Reyes, their debut album as a duo, Chino & Nacho have forged a path all their own.
Spawning hits such as "Vagabundo de Amor" and "Dentro de Mí," the album propelled them to the top of the charts in their native country and led to the release of their next album, Mi Niña Bonita, stateside in 2010. The pop twosome continue to amass an international following, as evidenced by their latest album, Radio Universo, which released last summer, and their new single, "Andas En Mi Cabeza," which features Daddy Yankee.
Living Out Loud – Los Angeles recently sat down with Chino & Nacho to talk about the single and their musical futures.
LOL-LA: What does the city of Los Angeles mean to you?
Chino: It means a lot to us and our career. It's given us a tremendous push and has helped us reach the Latin-American community not just in the U.S. but in Central and South America as well.
Nacho: We've had several memorable experiences in Los Angeles, such as performing at Staples Center, and just overall interaction with fans here is very special.
LOL-LA: You guys will be at the BMI dinner party as well. What does that mean to you?
C: A great deal. It celebrates the birth and creation of something special – a song. A song in many way symbolizes the steps an artist takes, whether being forward or backwards. Being invited to this tells us we've taken steps in the right direction.
N: I think any opportunity such as this – an award show, a dinner, etc. – where you can talk and share with a group of your peers or colleagues, is very important. Something phenomenal always comes out of these types of gatherings. We've had several opportunities like this in the past, and it's always an amazing experience.
LOL-LA: What can you tell us about the concept behind the song "Me Voy Enamorando?"
C: We haven't really publicized this in the past, but we're very involved with several charities and social causes. One of those being the fight against children's cancer. We wanted to incorporate some of the stories we've come across, and we decided to evoke a story about a girl with cancer we came across. It's a beautiful concept, and it's been very popular with our fans.
LOL-LA: What can you tell us about your latest single featuring Daddy Yankee, "Andas en mi Cabeza"?
C: We actually didn't intend on using this song in the first place. There are so many songs we have in mind, and you only really get to promote three or four each year. I had a friend invite me to this place called La Bohemia, where singer-songwriters and other artists get together and share music they've composed that is unknown. I brought my wife along and performed it for her as a gift. Someone there recorded this on her phone, uploaded it to YouTube, and it went viral. It was something pretty much improvised that turned into a hit, with no intention to publicize it. Daddy Yankee heard it and said that was the song he wanted to do with us, and here we are.
LOL-LA: What was it like to work with him?
N: It was spectacular. He's a real gentleman and professional. Honestly, he's a part of history now. The Reggaeton genre wouldn't be what it is today without his contributions. It was an enriching experience. He's very meticulous about how he approaches everything he does and does a phenomenal job, both on stage and in the studio.
LOL-LA: Your shows are characterized by always being full of energy. Where does that come from?
C: I think it comes from the love we have for what we do and always wanting to continue living off of this. It also comes from our fans' support. It's hard and exhausting, what we do, but there's something incredible about having the opportunity to do what you love for a living, and that's always on our minds.
N: With social media, you get a lot of feedback from your fans that always helps. You'll post something, and you'll always get responses – encouraging if you're having a hard time or helpful critiques about your work. That's worth so much to us.
LOL-LA: Do you guys have stylists, or is your look something you guys come up with?
C: Most of it us is. We do consult with stylists for red carpet events and awards shows, and it helps us overall, but we don't have a stylist with us every day telling us how to dress (laughs).
LOL-LA: What else is on your agenda in the upcoming months?
N: We'll be in Colombia at the "Bailando con las Estrellas" show. It's currently the No. 1 rated show there at the moment, and we'll be performing. We'll also be in the studio working on our next album. We want our next project to have a more urban feel, and so we'll be collaborating with several artists. We want to be a part of this fusion movement that's taken force and give our contribution.
LOL-LA: Any words for the youth out there who might want to follow in your footsteps?
N: Educate yourselves. Add culture to your intellect. By being as prepared as you can, with talent, you ensure you get the most opportunities possible and give yourself the best chance of succeeding. To have a chance of being successful at this, you must work extremely hard all day, every day, always striving to improve your art. Also just as important, once you do start to see some success – be it an award or a hit song, etc. – is to never let it get to your head, nor let it compromise your work ethic. If anything, you must work harder to maintain that and build on it.
LOL-LA: Who are you looking to collaborate with in the near future?
C: At this point, we're open to all avenues. We've been really surprised by the wide array of collaborations we've been a part of, even outside our "genre." We've learned a lot from that. It's also helped us reach international audiences we wouldn't have otherwise.
LOL-LA: What do you do in your spare time, if you have any?
N: I'm a dog lover, and I'm currently learning how to groom dogs to volunteer at shelters. It's very rewarding. I love to do everything – run, laugh, make love – everything (laughs).
C: I try to spend as much time with my kids as possible. Especially in this lifestyle we live in, I don't see them as much as I would like. The quality of the time we spend is most important, but there also needs to be enough quantity. I also like to spend time doing charity work, trying to help people who need medical procedures, etc.
For more information, visit chinoynacho.com.ve.
Edison Milan and Yuri Shimoda contributed to this story.
Video Slider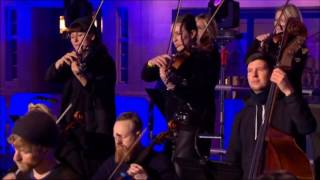 Win Tickets to See Pete Tong at Hollywood Bowl
Pete Tong is back in Los Angeles, and your chance to see him perform is at Hollywood Bowl on Thursday, Nov. 9. We are giving away complimentary tickets to the show. For a chance to enter to win, email us at
[email protected]
with "Pete Tong" in the subject line and tell us why you would like to go.