Celebrate Independence Day with Shinesty
The Madison American Flag Blazer from Shinesty
Gentlemen, if you're still unsure of what you'll be wearing for the Fourth of July, Shinesty has the perfect blazer for you.
The team behind the brand aim to bring an outlandish collection of clothing to the masses. If giant patterns, neon colors and retro vibes are what you want, look no further. From themes like derby, NFL, western, '80s/'90s and more, Shinesty is not meant to be taken seriously, and it's safe to assume any guy or girl wearing a piece from it is a ton of fun to be around.
With a USA-themed collection, this is the perfect opportunity to make a purchase. Frankly, even if the holiday has passed, feel free to let your patriotism be on full display with the Madison American Flag Blazer.
If attention is what you're hoping to receive, you'll have all eyes on you with this ensemble. Represent the red, white and blue, and opt to buy both the blazer and pants (sold separately).
The suit looks like your standard get-up, however, the lining of it is a print of the American flag. The blazer is available in various sizes and retails for $149.99. Pants are also available and are $39.99.
If a suit is not your style, you can dress down with the Yosemite American Flag Overalls ($74.99), the Monroe USA Short Sleeve Button Down ($44.99) or wear your pride on your privates with the Mascot American Flag Ball Hammock Boxer Briefs ($24.99).
Don't worry, ladies! From American flag bikinis to dresses and tank tops, you're also fully represented.
Whether you want to look well put together or just want to be the life of the party, visit shinesty.com for some options and laughs.
Not everything needs to be so serious, and this company makes sure to keep things light and humorous.
Video Slider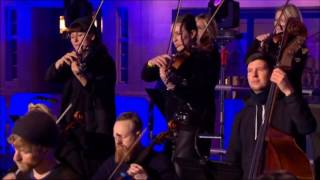 Win Tickets to See Pete Tong at Hollywood Bowl
Pete Tong is back in Los Angeles, and your chance to see him perform is at Hollywood Bowl on Thursday, Nov. 9. We are giving away complimentary tickets to the show. For a chance to enter to win, email us at
[email protected]
with "Pete Tong" in the subject line and tell us why you would like to go.