Cast of Incredibles 2 Discuss Newest Film
In Incredibles 2, Helen aka Elastigirl (Holly Hunter) is called on to help bring Supers back. Her mission comes with a brand-new Elasticycle, a state-of-the-art cycle that is designed just for her. Meanwhile, Bob (Craig T. Nelson) navigates the day-to-day heroics of "normal" life at home. (Disney•Pixar)
The wait is finally over, one of the most anticipated releases of the summer, and frankly of the last 14 years is finally here.
That's right, Incredibles 2, your favorite family of superheroes is back on the big screen and better than ever.
The sequel to the hit Pixar film, The Incredibles, brings back the beloved Parr family who are on the quest to bring Supers back, all while trying to live their day-to-day lives.
With a new villain in the picture attempting to destroy everything, the Incredilbles must face the challenge head on.
Written and Directed by Brad Bird and produced by John Walker, the film stars Craig T. Nelson, Holly Hunter, Sarah Vowell and Huck Milner as the Parr family.
It also stars Samuel L. Jackson, Brad Bird, Jonathan Banks, Bob Odenkirk, Sophia Bush, Catherine Keener, Phil LaMarr and many other talented actors.
When the cast of the film discussed differences in the first film and the sequel, it was evident technology evolved, but so did the characters.
Catherine Keener said that this time around, the characters are more finely developed, allowing everything to feel more rich and alive.
"Technology has allowed us to make the film look more how Brad intended to the first time," Keener said.
For Craig T. Nelson and Holly Hunter (Mr. and Mrs. Parr / Mr. Incredible and Elastigirl), the role reversal of their characters led to two different initial feelings.
Hunter was thrilled while Nelson was a slightly less excited about Mr. Incredible not saving lives or exhibiting his powers.
Although the excitement for Nelson came later, "Then I find out that Bob is going to learn and focus on being a dad focused on saving the family. It was just a lot of fun," he said.
New to the film is Sophia Bush, a longtime fan of The Incredibles and of Pixar who raved about being a part of the franchise.
"It's wild to see the early stages of animation and to watch some of the scenes and to watch what they become in the final edit," she said.
"It's totally nuts to go into the studio when I know I'm talking to Holly, but she's not even there! It's very cool!"
Co-star Sarah Vowell agreed with Bush when it came to recording audio and trying to get a sense of the architecture of the scene.
When it came to comparing elements of the Marvel Cinematic Universe and the Incredibles 2, Samuel L. Jackson summed it up by saying "The relationships inside those films become very intimate and very intricate."
"There's a weird kind of interesting playbook that I look at sometimes when I watch all the movies and it's like they have this secret sauce," he said.
Audiences can expect to fall in love all over again with the film, from the plot to the newest additions in the cast and of course, the visuals.
Director Brad Bird praised production manager Ralph Angleston for his outstanding work.
"He thinks about colors psychologically, he thinks about what's going to surprise people and he's not afraid to make bold choices," Bird said.
Hurry to your nearest theater and make sure you catch Incredibles 2, whether you were around when the first film came out, or weren't even alive when it was released, this is a film that everyone will love and enjoy.
Marvin Vasquez and Joelly Vazquez contributed to this story.
Video Slider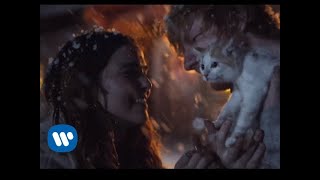 Win Tickets to See Ed Sheeran at the Rose Bowl
Ed Sheeran is back in Los Angeles, and your chance to see him perform is at the Rose Bowl in Pasadena on Saturday, Aug. 18. We are giving away complimentary tickets to the show. For a chance to enter to win, email us at
[email protected]
with "Ed Sheeran" in the subject line and tell us why you would like to go.