Interview: Cast of Hotel Transylvania 3: Summer Vacation Discuss Newest Film
Everyone and more are back in Hotel Transylvania 3: Summer Vacation. (Sony Pictures Animation)
Make your summer even better by watching Hotel Transylvania 3: Summer Vacation, in theaters now.
The newest film brings back the lovable monster family consisting of Drac (Adam Sandler), Mavis (Selena Gomez), Johnny (Adam Samberg), and Dennis (Asher Blinkoff).
Embarking on a vacation on a luxury monster cruise, the smooth sailing comes to a halt when Mavis realizes Drac has fallen for the mysterious captain of the ship, Ericka (Kathryn Hahn).
Reprising their roles are Selena Gomez and Adam Samberg.
For Samberg, when speaking of his participation in the first film and whether he anticipated multiple films to be made, he said, "Certainly you hope so with animation, if it works then you do more"
"I love the idea of a character expanding their growth," Samberg continued.
For Gomez, both she and her character have grown up since the first Hotel Transylvania film.
"It's sort of nostalgic my voice actually changed after the first movie so it definitely helped that she [Mavis] had a whole life and grew up," the actress said.
With all the success of the previous films, the franchise has gained plenty of fans and Samberg noted he was actually a fan of director Genndy Tartakovsky prior to even working on the movie.
When it came to the third installment, director Tartakovsky said of finding the dynamics, "It's finding something new without changing it, there's a repetitiveness that has to be done."
He continued on to say, "Comedy is very difficult and even as much as I have done, it's a mystery because something that I've done that I think is really funny might not be funny for someone else."
"That's the mystery with comedy, you just don't know sometimes, you might have to finish it completely."
Acknowledging that the energy comes from the animation, viewers will have plenty of laughs from perfectly structured scenes.
When it comes to providing laughs, Keegan-Michael Key is back as Murray the mummy.
Key made his Broadway debut in 2017 in Steve Martin's Meteor Shower and said, "The thing about theater is you get to rehearse for an eternity and I wish you got to do that more in movies."
Newcomer to the franchise, Kathryn Hahn chimed in and said, "That's what I was going to say, as an actor you feel empowered over what you're making, and there's such a freedom on a path that you've been working on, but then something struck and then it shifts and it's the greatest joy."
Speaking of working with Tartakovsky, Key said, "Genndy is such a great artist because he created this world, and in the booth they go let me get 90 minutes and it takes him 90 minutes because he knows the world."
Both Samberg and Gomez described the film as being great fun for the whole family.
You can catch Hotel Transylvania 3: Summer Vacation in theaters now.
Video Slider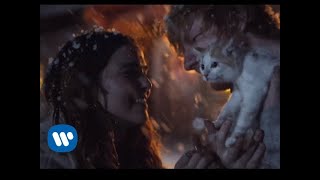 Win Tickets to See Ed Sheeran at the Rose Bowl
Ed Sheeran is back in Los Angeles, and your chance to see him perform is at the Rose Bowl in Pasadena on Saturday, Aug. 18. We are giving away complimentary tickets to the show. For a chance to enter to win, email us at
[email protected]
with "Ed Sheeran" in the subject line and tell us why you would like to go.