Carla Morrison Set to Take Over Coachella, Pa'l Norte and Vive Latino
Carla Morrison is back…This time stronger than ever. The Mexican star has a full agenda. In April she will perform at three of the biggest festivals in America. At the same time, and after working in collaboration with some of the top performers in the music industry, she continues to promote her most recent album "Amor Supremo."
Morrison is ready to make history when she performs at the Coachella Valley Music and Arts Festival. This important cultural happening, which each year brings thousands of people together, will take place over two consecutive weekends in Indio, California. Not only will this be a milestone performance in Carla's career, but she also has the distinction of being one of the only Latin talents taking part in this year's edition. Festivalgoers will enjoy her music on Friday 15th and 22nd of April. Between these two performances, the 29-year old artist will make a stop in Monterrey, Mexico to be part of the fifth edition of the Pa'l Norte Festival, where Carla will perform her catalog as well as new songs during the first day of the event, Saturday, April 16th.
"In Pa'l Norte people know me, so I'm sure they will ask for many of my previous songs. In Coachella I will be debuting, so I'm trying to put together something special to surprise the public," said the artist during a recent interview with Notimex.
Later, the Tecate, Baja California, native will return to Mexico to join the Vive Latino Ibero-American Musical Culture Festival. The 17th edition of this important cultural festival, whose goal is to unify different alternative musical genres, will take part at the Foro Sol in Mexico City on April 23rd and 24th. Carla will perform the second day of the event.
Recently, the singer of "Eres Tú," announced her collaboration with renowned American stars Macklemore & Ryan Lewis. Morrison is part of the duo's latest album entitled This Unruly Mess I've Made. Lewis confessed to Billboard that Carla's interpretation on the song "The Train" was simply "brilliant." On the English language track, Morrison's parts are in Spanish. Regarding this unique arrangement Lewis said: "She sounded phenomenal… We thought Spanish sounded more beautiful than the English versions. Also, we didn't make a super complicated chorus, most people can pick up nuggets of the lyrics even if they aren't bilingual."
These multiple developments come on the heels off her latest LP Amor Supremo, released at the end of 2015 via Cosmica Records. The album was positioned between Billboard's 10 Best Latin Albums of 2015 and NPR's (National Public Radio) 50 Favorites of 2015. Also, the lead off single, "Un Beso,"was among Remezcla's 50 Best Latin Songs of 2015 and NPR's 10 Songs Public Radio Can't Stop Playing.
For Carla, Amor Supremo represents a new moment in her music; she has mentioned during various interviews, that this production reinvented her career. She has also pointed out to El País newspaper, that "this record is different from the previous ones, because it is a little more inclined towards synthesizers, it is something more digital. It is a record that, although still speaks of heartbreak, also talks about empathy and accept that sometimes things can not happen and you must let go."
Amor Supremo is without a doubt one of Carla Morrison's best productions, to the point that, after this album, many people described her to be a musical phenomenon, while media have taken notice of the project and bestowed upon it major critical applause:
"Amor Supremo is an hour of reverbed-out ballads about
intemperate love and the void… Is elegant and gauzy.
These are reports from the inside of the head,
love songs about the contents
of one soul's being decanted into another."
–The New York Times
"Carla Morrison's new album, Amor Supremo is pop music
with a healthy sense of grandeur…
Morrison commands these songs,
cuts across the language barrier,
makes you understand something beyond the words.
Epiphany makes Amor Supremo one of the most rewarding
and genuinely moving pop albums of 2015."
-Pitchfork
"Amor Supremo is appropriately as big as its name and content:
Elaborate electronic and string-tinged soundscapes
shape a sound that's sublimely otherworldly,
yet sturdy and commanding."
-Remezcla
Morrison started her career in 2008. Since then she has collaborated with superstars like Julieta Venegas and Natalia Lafourcade. In addition, Carla has won two Latin Grammy Awards in recognition to her first full length album, Déjenme Llorar.
Video Slider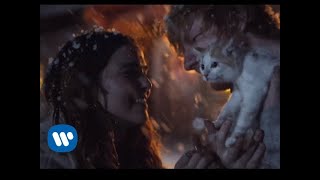 Win Tickets to See Ed Sheeran at the Rose Bowl
Ed Sheeran is back in Los Angeles, and your chance to see him perform is at the Rose Bowl in Pasadena on Saturday, Aug. 18. We are giving away complimentary tickets to the show. For a chance to enter to win, email us at
[email protected]
with "Ed Sheeran" in the subject line and tell us why you would like to go.