California Beer Festival 2015: Success in Numbers
The Bloody Cure served up a great Bloody Mary/Michelada mix at California Beer Festival. (Evan Solano/LOL-LA)
As soon as I heard the California Beer Festival was coming back to San Dimas for not only one, but two days, I was excited. For the fourth year running, the California Beer Festival returned to Frank G. Bonelli Regional Park Sept. 12 and 13 for a weekend showcasing the best in craft beer from the Golden State.
But it also would not have been a beer fest if I didn't invite Cameron back for a second round (See last year's review here.). This time around, though, we had planned to get to the festival with plenty of time to try and sample all of the 70 craft beers from across the state featured at the event.
We got there with minimal trouble, except when our Uber driver decided to drive on the opposite side of the road for a few seconds, which is always a fun thing to have to remind your driver to not to do. Regardless of our small action movie moment, parking and drop off locations were well marked and patorns were able to get to the fest with minimal hassle.
Once on the grounds we quickly devised our game plans: For me it was about taste, for Cameron it was a numbers game– the higher the percentage, the better.
We decided to start in the center of the festival grounds, where under a large white tent were several beer companies including Crabbie's, whose Scottish Raspberry infused Ginger Beer was a pleasant break from the bitter IPAs and ales that were surrounding them.
Seattle-based brewing company Elysian had their booth set up with what was perhaps the most interesting brew of the festival, their Avatar Jasmine IPA, which was named Best in Show by the judges. The beer had the hoppiness of an IPA but a refreshing floral aroma that really brought out the full flavor of the beer and gave it a real distinct blend of Eastern aromatics with the great beer-making skills of the Pacific Northwest. At 6.3- percent ABV, even Cameron was won over by the brew. Thankfully we got to try the Jasmine IPA before the natives got wind of how amazing it was and began flocking to the Elysian booth to sample a taste of the winner.
After sampling a few beers from the white tent, we ran into a fellow beer reviewer named Joe, who was walking around with a blue notebook and rating beers for this app called Untappd, which is basically a beer tracking/rating app that uses an algorithm to learn what kind of beers you like. Needless to say, this app is now on my phone.
Joe had sold Cameron and I two massive homemade pretzel necklaces he snuck in, which apparently helps clean your palate as you sample beers, or in our case, makes for cheap snacks because we didn't think to eat food beforehand. Decked out in our new pretzel adornments, we felt more in tune with the rest of the beer snobs in attendance and made our way around the outer booths. We had a lot of people asking us where we got the necklaces, but were quickly dismayed to learn that we had purchased them from a total stranger, their loss.
There were booths around the grounds from great companies like Stone Brewing, who were featuring their Stone Saison, which is a modern spin on a Belgian Ale that had hints lemon zest, lemon thyme and lavender, and their wonderful Delicious IPA, boasting big flavor and a bigger ABV of 7.7 percent, which truly makes this beer live up to its name. Sampling the Stone booth wasn't so much about trying a new beer more than it was like seeing an old friend, but one who gets you buzzed off a 3 oz. sampler glass!
The Saint Archer's booth was the next stop on our beer expedition. The San Diego-based brewery has a soft spot in my heart because of the amazing design of their cans and bottles. Although it's not just about the look, the White Ale and their delicious 7-percent ABV IPA both were big hit among the patrons. The IPA has a well-balanced blend of bitter hops paired with zesty citrus and tropical notes that really gives the beer a distinct taste.
One of the biggest surprises for both Cam and I came from the Bloody Cure booth. We had overheard some people talking about this Michelada mix beer, and we instantly booked it to the booth where we were able to sample perhaps one of the best Bloody Mary/Michelada mixes I've ever had (and trust me, I've had a few on a recovery Sunday!)
As we approached the booth, an outrageously bearded one-armed man, who with his nub arm was pouring and passing out beers as if he had four arms, greeted us. I've seen some cool bar tricks, but watching this guy handle the crowd was pretty damn neat.
The mix had a great blend of spices, pepper and lemony goodness that gave it a real authentic, homemade style taste that wasn't too spicy or too bland. It has just the right amount of kick that leaves your mouth feeling it after you've already finished and makes you want to make yourself another, or in our case, sample it again, because that's exactly what we did.
As the afternoon was drawing to a close the band playing had almost everyone dancing – or attempting to dance – as best they could considering the state we were all in by that point. Watching these inebriated tribal dances made me realize why the festival decided to split the two-day festival into both a family-fun Sunday and Saturday. There are some things that kids just dont need to see, people buzzed dancing to James Brown and Black Eyed Peas songs are up on that list I suppose.
Today was our day, for the beer snobs and the casual enthusiast to come together, sample some great beers and make one lowly writer cringe in the corner as they awkwardly bumped and grinded to "Uptown Funk."
For better or worse dance moves, these were our people and as the California Beer Festival drew to another successful close, Cameron and I left both satisfied in our personal quests. There was both amazing and unique flavored brews that both piqued and enticed my senses, and some heavy hitting, high-percentage beers that gave Cameron a run for his money.
To me, the California Beer Festival has become an end of the summer tradition, and seeing as how the festival has already improved upon last year, I am very much looking forward to what is in store for next year. Who knows, I might even end up on the dance floor next year… then again there are some things that beer can't help you forget, no matter what the percentage or how many samplings you get.
Video Slider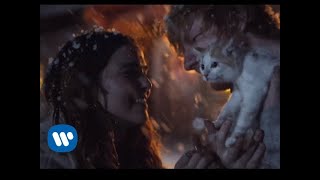 Win Tickets to See Ed Sheeran at the Rose Bowl
Ed Sheeran is back in Los Angeles, and your chance to see him perform is at the Rose Bowl in Pasadena on Saturday, Aug. 18. We are giving away complimentary tickets to the show. For a chance to enter to win, email us at
[email protected]
with "Ed Sheeran" in the subject line and tell us why you would like to go.