C. Tangana Sheds Light on the Latin Urban Music Scene
C. Tangana (Courtesy photo)
With the Latin Urban music scene exploding with talent and showing no signs of slowing down, fans of the genre will enjoy the sounds of C. Tangana.
Considered a cutting-edge urban act in Spain and at the moment, an important phenomenon in Latin Territories, the artist is quickly gaining momentum and is winning over fans and critics.
Having first started as painter and doing graffiti, Tangana's interest in music was influenced by his father who was always playing music at home.
While their taste in genres differed, Tangana said it was his father who started his love for music.
Described by many as a mixture of "Latin music á-la-J.Balvin with a twist of Drake's smooth and sophisticated R&B," he has created a name for himself while staking his claim in hip-hop, alternative pop and electronica.
Speaking of his musical evolution, he said, "I think over the past three years I've revolutionized as Urban Latin, leaving and taking influences from movies, fashion and everything that has to do with the European aspect, not just Latin. "
Additionally, he said it wasn't challenging to combine multiple genres.
"If you listen to Urban music, you're listening to a variety of combinations, electric, reggae, reggaeton, etc."
His latest single, "Bien Duro (Very Hard") was recently released and was inspired by a night in Miami.
"I can't remember what we were celebrating but the next day I woke up and started writing it and went into the studio and that's it."
"It took us about a month and a half to finish the production," he said.
Like most of his lyrics, his writing is influenced by life experiences, "A little bit of everything in life," Tangana said.
"Every time it's like a movie, there's never a routine but overall, some of my best songs have emerged through the hook, or the chorus of the song," he said of his writing process.
"Sometimes, the hook or the lyrics and the chorus is all improvised but the rest of the lyrics are based off of me and my feelings and my inspirations," he continued.
As one of Spain's most streamed artists worldwide with nearly 3.5 million monthly listeners, fans can expect Tangana to be around for a while, perhaps with a new sound.
"I hope to be able to change it a little from what it is, to find new alternatives."
"I feel like when we find something that works, we all try to go for it and eventually most music sounds the same."
"So I hope to find a new alternative and hopefully make something different," he said.
If the musician had to give advice to the old him from five years ago, he said it would be, "To stay consistent because I started making music as a hobby and focused on other things, so that made me waste a lot of time."
As for future collaborations, he said, Ricky G., we've been in the studio a couple of times so there's a collaboration coming soon."
Fans can listen to C. Tangana's newest mix tape, Avida Dollars, which has hit number one on Spanish Album Stream Charts and hit number one on Apple Album Charts, to hear what the hype is all about.
Marvin Vasquez and Joelly Vazquez contributed to this story.
Video Slider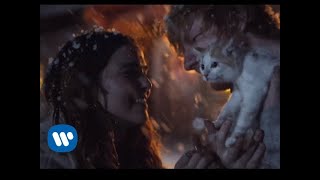 Win Tickets to See Ed Sheeran at the Rose Bowl
Ed Sheeran is back in Los Angeles, and your chance to see him perform is at the Rose Bowl in Pasadena on Saturday, Aug. 18. We are giving away complimentary tickets to the show. For a chance to enter to win, email us at
[email protected]
with "Ed Sheeran" in the subject line and tell us why you would like to go.