Biologist Breaks Down Science Behind Annihilation
Rafael Romero giving interviews on Thursday, Feb. 22, 2018 at the world renowned Los Angeles County Arboretum and Botanic Garden in Arcadia, Calif. (Courtesy photo)
We often go to the movies to escape reality and enter a different world, at least for a few hours. Worlds of make believe where everything stems from imagination. But some films have a strand of scientific truth.
The new film, Annihilation, stars Natalie Portman, Oscar Isaac, Jennifer Jason Leigh, Tessa Thompson, Gina Rodriguez and Tuva Novotny.
While the sci-fi thriller is action packed, it also depicts actual science when it comes to mutation.
From writer and director Alex Garland and based on the best-selling Southern Reach Trilogy by Jeff VanderMeer, the film tells the story of Lena (Portman) and her search to uncover the truth about what happened to her husband inside Area-X.
A mutated landscape full of creatures is uncovered during the expedition and threatens the lives of those involved, along with their sanity.
Biologist, Rafael Romero, helped breakdown the science behind the story and explained what was real and what was just Hollywood.
"They didn't take too many liberties," he said from the renowned Los Angeles County Arboretum and Botanic Garden in Arcadia. "They didn't deform scientific truth too much, but then again, given that it's an alien [that's doing it], all bets are off."
When it came to talk of mutation, he explained that yes, the film was correct in that "mutation leads to diversity."
"Mutation leads to change," the biologist said.
However, it doesn't quite work overnight.
"You can't generate that change in a span of a few years, that's the scientific liberty that they took."
"There's this extraterrestrial force and it creates presumably a higher mutation rate which causes things to change, but a few years isn't enough time," he stated.
"Mutations are essentially changes in the code, that's what pushes change. That's what pushes an organism to look different and we believe that whatever life form existed first, it's through mutation and billions of years that we've generated all the diversity we see here."
When discussing the plot of the film, he pointed out the fact that different species can't breed. He added that there are some cases where hybrids are formed, but it's only possible when the species are different but related (for example, a mule).
Overall, Romero described the film as entertaining and recommended it for fans of thrillers.
When asked how he would deal with things, if say, the plot of the film was actually happening in real life, he said, that's where things get tricky.
"In science, we have to understand how things are caused."
"In a case of a foreign organism, and by foreign, I mean extraterrestrial, if we don't know the rules, there's no way scientifically to approach it other than perhaps doing what they did in the movie, which is to just observe."
On that note, hopefully there's no alien attack coming soon.
Annihilation is now in theaters.
Marvin Vasquez contributed to this story.
Video Slider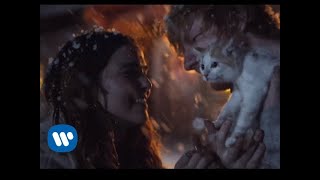 Win Tickets to See Ed Sheeran at the Rose Bowl
Ed Sheeran is back in Los Angeles, and your chance to see him perform is at the Rose Bowl in Pasadena on Saturday, Aug. 18. We are giving away complimentary tickets to the show. For a chance to enter to win, email us at
[email protected]
with "Ed Sheeran" in the subject line and tell us why you would like to go.