The Belko Experiment Cast and Crew on the Violent Office Film
John Gallagher Jr., Owain Yeoman and Michael Rooker in The Belko Experiment
It's a bloody office affair in The Belko Experiment, and Living Out Loud – LA got a chance to sit down with the cast and creative team behind the film. Director Greg McLean, producer/writer James Gunn along with actors Sean Gunn, John Gallagher Jr. and Adria Arjona all shared their excitement to be a part of the film. They recounted how they worked together with the minds behind the film to bring us interesting characters going through a violent but darkly humorous experience when their told to off each other 'til there is only one person left standing.
McLean couldn't be prouder of the cast.
"Because they're such great actors and they inhabit the characters so fully, there's lots of moments in the film where they just invented something, a mannerism or word that makes the scene come alive," he says about working with the cast that also included Michael Rooker and John McGinley. "The thing is, you can't make a movie like this unless you've got all your actors 100-percent giving their all. If we had a difficult actor speaking about what's my motivation we'd still be there right now. Our actors were super smart and super capable to do good work even though it was stressful and intense."
Rooker wasn't the only Gunn regular to return to one of his films, even if he just wrote it. Also appearing was his brother Sean Gunn, who a lot of folks will recognize as Kirk in "Gilmore Girls." We asked him what it was like to go from Kirk to Kraglin to Rocket in Guardians and where Marty from Belko fit in all the madness.
"Belko was before that, shot the summer of 2015 in Bogota. I did Guardians 2 and 'Gilmore Girls' at the same time," he reveals. "I was doing two roles in Guardians, playing Kraglin on screen and playing Rocket on set, flying back and forth to L.A. to play Kirk on 'Gilmore Girls.' It was the most challenging but also rewarding time of my career. 'Gilmore Girls' fans are very enthusiastic. It's hard to tell at this point. Guardians 2 hasn't come out yet. I have a bigger role in that, which I think will probably raise my profile with the public. Right now doing so many episodes of 'Gilmore Girls' and the fans are just so crazily into it, I think that's what I'm most known for and most recognized for. That fandom is fascinating to me. 'Gilmore Girls' fans are like 'Doctor Who' fans and 'Star Trek' fans or something in terms of how much they're into that world. It's really cool and interesting for a regular show set in a small town. I really appreciated it this second time around than I did when I did it originally. I was young and didn't quite appreciate being on an amazing show while it was on. When I got away from it, I started to miss it. I felt really blessed to work with those people again and get those scripts again"
Leading the charge in the film is Latina actress Adria Arjona, who gets to duke it out with a lot of dudes trying to kill her or get in her pants. She luckily gets a great scene getting back at the office pervert with an ax that is super ultra violent and gory but fun. The actress reveals that while she had a blast, her mom didn't quite when she found out her kid might not make it through the film.
"I don't think that was the plan of the mastermind. I think there was supposed to be only one," she laughs. "My mom came to visit me in Colombia and I was doing an intense scene with John Gallagher Jr., and I could hear her near the monitors crying, 'Ay mi nena! Ay dios mio!' And I walk straight to my mom and say, "Mama, out!" She starts crying, and I tell her, "This is fake, it's not real. Just go to craft services."
Gallagher Jr. plays the film's main lead who has to grapple as the film's moral core who thinks they all shouldn't give into massacring one another. As an actor, he quite enjoyed delving into the ridiculousness of the film's story and theme that was still saturated with Gunn's signature humor.
"James is a realistic type of artist, and he wants things to feel real. I think he got a group of actors to treat his material in the way it deserves, which is really campy, really funny, really bloody but very serious at the same time. James is a really funny guy, so the first time I read the script I was laughing as the people were going after each other with this gallows humor. The way some of the actors brought their essence to the roles just made it funnier."
While Gunn didn't get to direct this feature, he had to work on a little film called Guardians of the Galaxy: Vol. 2, he did say he thought of it.
"There are a lot of things I want to do but simply don't have the time to do. I was never going to have the time to direct Belko myself, and I was able to produce," he explains and adds that he looks to still stretching out his genre resume. "I'm definitely going to do another smaller project like Belko that's going to take up a small amount of my time right now. I'm thinking very seriously of doing a TV pilot with my brother Brian. There's a good chance that's gonna happen. I might do Guardians 3. It's there, and so I will figure that out in the next couple weeks. All I know is I wanna make a big movie next. I like making big movies where I can imagine things I can make exactly how I want them to be."
The Belko Experiment opens in theaters March 17.
Video Slider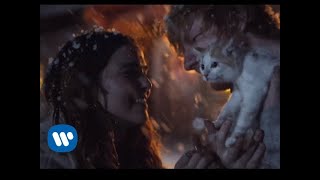 Win Tickets to See Ed Sheeran at the Rose Bowl
Ed Sheeran is back in Los Angeles, and your chance to see him perform is at the Rose Bowl in Pasadena on Saturday, Aug. 18. We are giving away complimentary tickets to the show. For a chance to enter to win, email us at
[email protected]
with "Ed Sheeran" in the subject line and tell us why you would like to go.