Back to School Event Hosted by Monster Jam and America's Best Contacts & Eyeglasses and Boys & Girls Club Hollywood
Partnering up just in time for back to school, Monster Jam and America's Best Contacts & Eyeglasses teamed up with Boys & Girls Club of Hollywood for a special event and with driver El Toro Loco. (Courtesy photo)
Partnering up just in time for back to school, Monster Jam and America's Best Contacts & Eyeglasses teamed up with Boys & Girls Club of Hollywood for a special event.
Held on Aug. 7th inside of the Boys & Girls Club Hollywood venue, children were given free vision screenings and were able to meet a special Monster Jam driver, El Toro Loco.
Because of its long history helping with youth development, the collaboration seemed only fitting as it provided local club children with not only free vision screenings, but also eye exams and eyewear if needed.
To date, the partnership has provided more than 11,000 kids with vision screenings and fits BGCA's preventative care and wellness initiative.
America's Best will be donating $5 to the Boys and Girls Clubs of America for the rest of the year for every pair of Monster Jam frames sold in stores.
Attendees were able to meet Monster Jam Driver Armando Castro (El Toro Loco), Mel Culpepper (CEO, Boys & Girls Club Hollywood) and Christina Cruz (America's Best spokesperson).
Castro will be competing in the upcoming Monster Jam Triple Threat Series on Aug. 17 – 19th at Staples Center.
The action packed event will feature eight drivers (including Castro) who will all go head-to-head in various competitions.
Competitors include Megalodon driven by Justin Sipes, Wonder Woman driven by Collette Davis, Zombie driven by Tyler Groth, Max-D driven by Jared Eichelberger and more.
With larger than life trucks, audiences will get more freestyle, wheelies and overall action with this event as drivers push themselves and their machines to the limit.
From Monster Jam Trucks to Speedsters and ATVs, the showdown is one that will go down in the books for any fan of motorsports.
The high-flying, four-wheel excitement will make for a good time for families.
Tickets for the Monster Jam Triple Threat Series start at just $25 and can be purchased at www.monsterjam.com.
Video Slider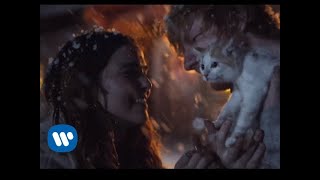 Win Tickets to See Ed Sheeran at the Rose Bowl
Ed Sheeran is back in Los Angeles, and your chance to see him perform is at the Rose Bowl in Pasadena on Saturday, Aug. 18. We are giving away complimentary tickets to the show. For a chance to enter to win, email us at
[email protected]
with "Ed Sheeran" in the subject line and tell us why you would like to go.