Baby Zala Surrounds Your Infant with Style and Luxury
The Baby Bootcamp Bag from Baby Zala
Just because your life is completely frazzled as a brand-new parent doesn't mean you can't at least look put together as you run errands around town, take a much-needed and well-deserved yoga class or head out to lunch to introduce your baby to friends. Let me give you a great tip. Baby Zala is the one-stop shop for moms and dads looking to add some style and luxury to their accessories.
All of Baby Zala's products are designed in Los Angeles to meet certifications for baby and infant safety, including being lead and BPA free. And, yes, they are completely fabulous items for either men or women to tote around the city.
Their signature item, the Baby Zala, is a cozy comfort solution for every stage of baby's life. The swaddle position snuggles newborns, creating a secure and familiar place for them to snuggle into. The Baby Zala can also be used as a supportive nursing pillow at home or even on the go because it easily rolls up into a travel bag.
As your baby grows, they can watch the world while laying down on the Baby Zala, either on their back or during tummy time, and eventually use it for back support as they sit up. They are available in soft, high-end fabrics in an array of designs like the chic Coffee Cotton ($79.99), adorable Giraffe ($149.99) and ultra luxe Charcoal Ivory Winter ($169.99). Good news for parents expecting multiple births: Twin sizes are coming soon.
Of course, Baby Zala extends the luxury and comfort to its line of blankets, known as the Heavenly Collection. These are 62" by 50" blankets that are great to throw over a couch or as a security blanket for toddlers. Their 38" by 36" Strollets are blankets that tie onto a stroller handle to keep baby snug while you're on the go. They also offer Paci Pockets, sized at 21" by 21" to use as a secret pocket for pacifiers or as a car-seat blanket.
Baby Zala's travel bags are the ideal solution for stylish moms and dads. A favorite is the Baby Bootcamp Bag ($59.99), an all-in-one diaper bag that has several awesome straps and pockets to hold bottles and other baby essentials, as well as a laptop or yoga mat.
Aside from the Baby Zala, my favorite items from the band are its infinity shawls. They are so chic that most people wouldn't even know that they're nursing shawls. The Cozy Blush style ($69.99) makes for a wonderful baby shower gift for a friend that's expecting a girl. Not only does it provide coverage for discreet nursing, but it's fashionable and can even convert into a canopy to snap around any stroller to give you shelter while breastfeeding.
Even though you may be an exhausted mess on the inside, the world will never know it when you and baby are decked out in items from Baby Zala. Shop their entire collection and today at babyzala.com.
Video Slider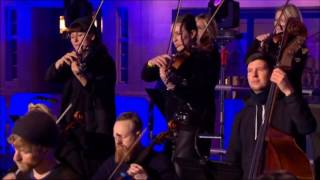 Win Tickets to See Pete Tong at Hollywood Bowl
Pete Tong is back in Los Angeles, and your chance to see him perform is at Hollywood Bowl on Thursday, Nov. 9. We are giving away complimentary tickets to the show. For a chance to enter to win, email us at
[email protected]
with "Pete Tong" in the subject line and tell us why you would like to go.