Augustine Director On French Erotic Hysteria
Soko as Augustine in Alice Winocour's Augustine. (Courtesy of Music Box Films)
Leave it to the French to make a 19th century period film sexy.
Augustine, director Alice Winocour's dark and intelligent feature debut, was inspired by the true story of Sigmund Freud's teacher, neurologist Jean Martin-Charcot. He was famous for documenting his patients' psychotic breaks (photos that can creep the depths of anyone's soul), but the French filmmaker was compelled by what she didn't see.
"It was the image of her escaping from the hospital [that I pictured] when I read her medical report," Winocour recalls. "It was just written that she had escaped. There was nothing written about the relationship between doctor and patient, and I really tried to imagine that. What could've happened between them? The story stuck."
The 37-year-old graduated from the prestigious Fémis film school. She's no stranger to the festival circuit, having directed a number of highly-acclaimed shorts. In her incessantly cheerful French accent, Winocour talks about her first feature with sheepish fervency.
But her subject, "hysteria" (in 19th century lingo), was a bold move. "This world of hysteria, it's a full universe," she says. "It's about desire, power, class, and the relationship between men and women."
Augustine was a teenage maid who was admitted into Charcot's hospital when a seizure paralyzed half her face. Casting the lead became a long process that included candidates going under actual hypnosis, undressing for medical test scenes, and simulating orgasmic seizures. After beating out over 800 girls, French singer Soko nabbed the role.
"It was really hard to find Augustine because it was such a big part. I wanted a newcomer, and at first I didn't want Soko. She was living in Los Angeles and I was looking for somebody really savage and wild," Winocour admits. "But when I met her, she had this energy. She was very physical and she's not really thin. She was more like the women at that time. Like a painting."
Playing opposite the pale and raven-haired 27-year-old is French actor Vincent Lindon, the famous doctor who, in the film, has a romantic affair with his patient. Winocour wanted a big star to play the part, because "Charcot was a huge, huge star himself."
She adds, "I really like that Vincent had this really sexual thing, like this 19th century strength. Also, he and Soko are really from different worlds. I thought it was interesting for the movie that the actors themselves were from different worlds."
Winocour also wrote the screenplay for Augustine. "It was not something really hard," she says. "You know in France, most of the directors write their own scripts. I had to rediscover the story as a director."
She wanted to to make a timeless film, and she succeeds. Augustine is both erotic and cerebral, set in a world worthy of Bram Stoker.
"I've been presenting the film with neurologists and psychologists. They tell me that of course, they're still working on hysteria. It's still a mystery. They're the same symptoms. The body is expressing something that still exists." As far as the audience is concerned, she says, "They recognize something of themselves, I hope."
Video Slider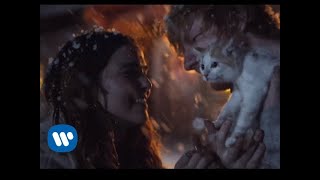 Win Tickets to See Ed Sheeran at the Rose Bowl
Ed Sheeran is back in Los Angeles, and your chance to see him perform is at the Rose Bowl in Pasadena on Saturday, Aug. 18. We are giving away complimentary tickets to the show. For a chance to enter to win, email us at
[email protected]
with "Ed Sheeran" in the subject line and tell us why you would like to go.