Astro Doughnuts & Fried Chicken Is Now Open in L.A.
Creme brulee doughnut at Astro Doughnuts & Fried Chicken (Scott Suchman for Astro Doughnuts & Fried Chicken)
After becoming an extremely popular and successful establishment in Washington D.C., Astro Doughnuts & Fried Chicken is now open in downtown Los Angeles.
The urban spot offers doughnuts and fried chicken.
Vanilla glazed, maple bacon, PB&J and creme brulee doughuts are options to consider. The creme brulee ($3.50) is, without a doubt, the must-have. It's crunchy, and the rich custard inside it is beyond delicious. Truth be told, this is now easily the best doughnut in L.A.
Also, the strawberry rhubarb crisp (contains the perfect amount of sweetness) and chocolate mudslide (rich in chocolate that isn't as sweet as other chocolate doughnuts) are two of my favorites. And if you take them home, you can easily pair them with a glass of milk (especially the chocolate mudslide) or even some hot cocoa.
Astro Doughnuts & Fried Chicken is sure to attract quite the crowd of doughnut lovers, but the venue's fried chicken is not to be missed. For example, the dark (thigh and drumstick) and white (breast and wing) meats are both enjoyable by themselves.
But my recommendation would be the chicken fingers for $8.25. They are so tasty, and you can easily dip them in any of their six dipping sauces or ketchup.
There is a breakfast menu every day until 11 a.m. that features four sandwiches, including a fried chicken honey sandwich with hot sauce and honey butter. The buns of choice can be a savory doughnut, potato roll, cheddar biscuit or an old bay doughnut.
For lunch and dinner, and for just $9.25, try the fried chicken BLT sandwich with lettuce, tomato and choice of one sauce. The word yummy does not even begin to describe it!
As long as it placed with time, catering is available.
Astro Doughnuts & Fried Chicken is located at 516 W. 6th Street, Los Angeles, CA, 90014. For more information, call (213) 622-7876 or visit AstroDoughnuts.com.
Video Slider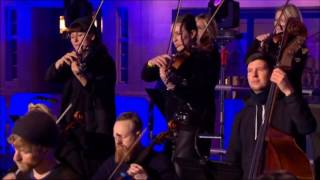 Win Tickets to See Pete Tong at Hollywood Bowl
Pete Tong is back in Los Angeles, and your chance to see him perform is at Hollywood Bowl on Thursday, Nov. 9. We are giving away complimentary tickets to the show. For a chance to enter to win, email us at
[email protected]
with "Pete Tong" in the subject line and tell us why you would like to go.