Artist Nina K Talks California Sunshine Splendor in Pixel Form
Summer By the Sea oil on canvas by Nina K
Living Out Loud – Los Angeles had a chance to chat with Croatian artist Nina K about her upcoming art shows around the L.A. area. The abstract painter is known for having her work available in high-profile galleries. Before we talked about where we could find her work, we delved into her origins as an artist.
"I think I was born with it. When I was little and I would get gifts and toys, my favorite were art supplies. When I was 4 or 5, I got this really fancy set of color pencils and oh my god, I think I went to sleep with them. I was always painting and drawing," Nina K shares.
Before she exhibited in various shows around the country, Nina was actually a part of a whole other field.
"Later on in life I was a fashion designer, but whenever I had free time I was always painting. After I finished doing fashion design, I made this my full-time career."
Now her work can be seen in places such as Laguna Beach, Palm Desert and San Diego. Her unique flair for art stemmed from her bold choices.
"I started doing landscapes, and then I turned things around and did abstracts," she describes her artistic awakening. "Once I did that, it opened up a whole new door. I would see a sunset or a beautiful beach and always get inspiration from nature, and then I interpret it my way. I use the turquoises and oranges and make it into an abstract expression. I look at something, and I see my vision of it."
At Avran Art + Design Gallery (540 S. Coast Highway, #106 in Laguna Beach, Calif.) Nina K's solo show Pixelated World opens on Saturday, Sept. 10.
Nina excitedly gushes, "Laguna Beach is a very art community, and the gallery I have been in for over three years is giving me a solo show for about a month. I will be there to talk about my work, and there will be a little reception. It's a really nice gallery in the heart of Laguna Beach."
Inspired by the Southern California sights, as an artist Nina declared that there was no other place that was so well suited to inspire art for her.
"When I moved to Southern California I knew I was meant to be here. I just love the pace of life. It helps bring out the creativity. It's the perfect life, and the setting gives me so much inspiration," she says.
The exhibit in Laguna features various pieces from her Pixel series, which is based on her very own technique.
"My paintings are abstract, but there's always some kind of expression in it. They see something inside my painting: a landscape or form of a person. There's always more to it," she describes. "My technique is the pixel technique. It's using oil paint and palette knives to give it a cascading form. I create thick layers of paint with different shades with a pixelated look."
When you see them up close you can marvel at three-dimensional effects and the wet appearance from the varnish she applies, so with the proper lighting it creates a luminous look. Fans of her work can attest that her pieces bring so much life to their homes.
"My biggest pleasure is when I get e-mails afterward. They say, 'Every time I look at the painting at my home it brings a smile to my face.' It means I have created something that stays with them. I feel fulfilled with that."
Nina K's work can be found in the Avran Art + Design Gallery in Laguna Beach, where she currently lives. You can also find her represented by the Coda Gallery in Palm Desert and the Emerald C Gallery in San Diego as part of their galleries. Laguna is currently her only solo show. For more information, visit ninak-artist.com and avranart.com.
Video Slider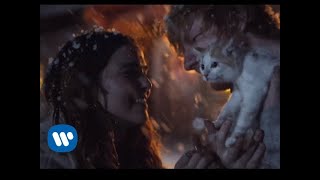 Win Tickets to See Ed Sheeran at the Rose Bowl
Ed Sheeran is back in Los Angeles, and your chance to see him perform is at the Rose Bowl in Pasadena on Saturday, Aug. 18. We are giving away complimentary tickets to the show. For a chance to enter to win, email us at
[email protected]
with "Ed Sheeran" in the subject line and tell us why you would like to go.