An Interview with Julieta Venegas About Her New Album, Algo Sucede
Julieta Venegas performs in Santa Ana Sept. 26 in support of her new album, Algo Sucede.
Julieta Venegas is currently promoting her latest album, Algo Sucede, and its single, "Buenas Noches, Desolación," is already causing a stir on the charts. Born in Long Beach, Venegas is looking to get in touch with her fans in Los Angeles, whom she describes as euphoric, fun and dedicated.
The album includes 12 tracks, all composed by Venegas, with collaborations from Cachorro López and Yamil Rezc, her producers. The album was recorded in Mexico and Argentina, and mastered in New York.
Venegas sat down with Living Out Loud – Los Angeles in an exclusive interview to discuss how this project came to be, and her upcoming tour.
"I began recording in Mexico, and later went to Buenos Aires to record with Cachorro. He's never steered me wrong," she shares. "I decided to record in both places to take advantage of working with different talent."
She goes on to say, "This album is very honest and reflects several stages in my life. It has everything. I wrote all the songs in Mexico, and it talks about happiness, sadness, my youth, everything. It depicts the way I see the world, not just what I've lived through. I also talk about things that never happened, but I wish had."
The album is a vibrant mix of folk rock, indie pop and pop rock. Among the tracks are "Esperaba," "Tu Calor," "Ese Camino," "Porvenir" and "Parte Mia" to name a few. "Se Explicará," another track, is dedicated to her daughter, whom she hopes can come to relate to it more and more.
Venegas also discusses in a bit more detail what the latest single "Buenas Noches, Desolación" is all about.
"It talks about sorrow and leaving things behind," she says. "This one in particular mirrors how I've felt because I believe that when one needs to escape from a difficult time, one needs to come to terms with that fact and move forward, no matter how painful it might be at the onset. It always helps to begin a new endeavor in those situations."
The singer-songwriter talks about her composing process, which she considers the longest and most important part.
"I love just sitting down every day for hours and hours and seeing what comes out. Even if it's just partial ideas, it all counts. Normally though, most of it comes out in one sitting," she tells. "I also really value my creative space, because it's where I feel the most free to develop my ideas."
Algo Sucede is currently available. Julieta Venegas performs at La Tocada Super Estrella at the Observatory in Santa Ana Sept. 26. For more information, visit julietavenegas.net.
Edison Millan contributed to this story.
Video Slider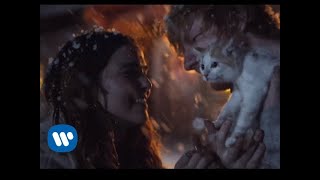 Win Tickets to See Ed Sheeran at the Rose Bowl
Ed Sheeran is back in Los Angeles, and your chance to see him perform is at the Rose Bowl in Pasadena on Saturday, Aug. 18. We are giving away complimentary tickets to the show. For a chance to enter to win, email us at
[email protected]
with "Ed Sheeran" in the subject line and tell us why you would like to go.