AmeriBag Introduces New SS18 Collection
Spring is finally here, and what better way to celebrate than to add some color to your wardrobe? With AmeriBag, adding style without sacrificing comfort is top priority.
Celebrating the 30th anniversary, AmeriBag was founded by Irwin and Margery Gaffin.
If you've never heard of the company, it centers on the idea of bags that are not only fashionable, but also functional.
Known for having the highest quality in terms of craftsmanship and material, the Healthy Back Bag was developed with the help of a doctor and chiropractor.
As a result, the bag's ergonomic teardrop shape allows the bag to feel lighter and more comfortable, all while shaping to each individual's body type.
Currently, the Healthy Back Bag is created in hundreds of variations when it comes to colors, fabric, design and size.
The brand is also established in more than 27 countries.
AmeriBag has various collections from Great Outdoors, Love Life, Catskill and more.
The new SS18 Collection is currently available and features their signature teardrop shaped bags.
Whether looking for an every purse or one for special occasions, AmeriBag has plenty of options.
For those wanting a bag to take to theme park or on daily outings, the Microfiber Baglett is a great choice.
Retailing at only $20, the bag comes in Pale Orchid, Mosaic Blue and Evergreen.
It can be worn as a cross body bag, on the shoulder or even around the waist.
It's lightweight but durable and soft and makes for the perfect pop of color without being overbearing.
It also features silver lining to reflect natural light and measures 8 x 4.5 x 3.5."
Now, if your goal is to add a touch more color to your outfit, the Nylon Pistachio S bag is just what you need.
Featuring a beautifully textured and distressed nylon fabric, the bag can be worn with any look.
It measures 17" x 9" x 6" and is also available in Cranberry, Stonewash and Evergreen.
It retails for $65.
If neutral and subtle is more your style, the Seashell Grey S bag is chic looking with its tactile, texture woven pattern in cream and grey.
It's $110 and measures at 17" x 9" x 6."
Any of the bags from the company will not only leave you looking great, but they wont hurt your neck, back or shoulders.
For a full list of products, visit www.ameribag.com.
Video Slider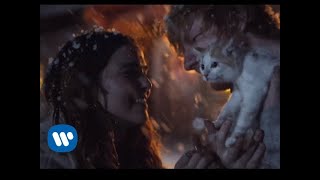 Win Tickets to See Ed Sheeran at the Rose Bowl
Ed Sheeran is back in Los Angeles, and your chance to see him perform is at the Rose Bowl in Pasadena on Saturday, Aug. 18. We are giving away complimentary tickets to the show. For a chance to enter to win, email us at
[email protected]
with "Ed Sheeran" in the subject line and tell us why you would like to go.