Alternative Milk: Milkadamia Now Available at Walmart
Dairy-free Milkadamia is non-GMO, gluten-free, soy-free and vegan.
Health-conscious consumers and plant-based food enthusiasts now have a new milk alternative: Milkadamia, now available at stores like Walmart.
"We are very excited to offer chilled Milkadamia in such a widely shopped outlet," says Milkadamia CEO Jim Richards. "While plant-based foods are increasingly gaining popularity, the more artisan products aren't always easily accessible – sometimes only available in gourmet markets. Now Walmart shoppers in every part of our country can discover just how delicious Milkadamia is, for breakfast and beyond."
The milk alternative boasts a nuanced taste and milky texture that you can swap in various meals throughout the day. It works great with smoothie bowls, baked goods and more in the hopes that it can help the planet by providing a delicious alternative to dairy. It's a delight that will also impact farming for good with the company's promise to commit to regenerative agriculture. They use techniques that create new soil and conserve water as all Macadamias are farmed from trees watered by nature's rainfall and not artificial irrigation.
Milkadamia's 32 oz. shelf-stable line is currently available in over 5,000 retailers across the US.
Some of our fave things about this dairy-alternative is that it's made from raw and never roasted nuts for a smooth flavor, and it works so well as a creamy swap in many recipes. It's also non-GMO, gluten-free, soy-free and vegan. It's an excellent source of vitamins D and B12 and has more calcium than 2-percent dairy milk. They also offer a variety of flavors like Original, Unsweetened, Unsweetened Vanilla and Latte to inspire your barista skills.
Now, Walmart and other popular retail shoppers can bring home Milkadamia's 64oz refrigerated line and customers can start cooking, baking, granola-eating and making coffee-swirling in alternative artisan cafe style. For more information and to find out what local market carries the product near you, check out their website milkadamia.com.
Video Slider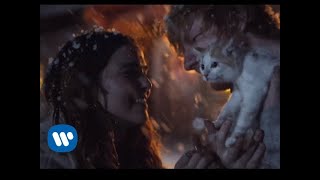 Win Tickets to See Ed Sheeran at the Rose Bowl
Ed Sheeran is back in Los Angeles, and your chance to see him perform is at the Rose Bowl in Pasadena on Saturday, Aug. 18. We are giving away complimentary tickets to the show. For a chance to enter to win, email us at
[email protected]
with "Ed Sheeran" in the subject line and tell us why you would like to go.