A Foodie's Paradise at The Taste
The Taste brought all of one's senses to life this year at the Paramount Studios backlot.
This past Labor Day weekend The Los Angeles Times presents The Taste was back and better than ever. Thousands of people wondered around the Paramount Studios backlot in a pure food/libation coma.
Five events began Friday, Sept. 4 through the evening of Sunday, Sept 6. Opening night was followed by two different food themes each proceeding day. Field to Fork and Dinner with a Twist were the events that happened on Saturday, while Sunday Brunch & BBQ and Flavors of L.A. were the final day. Each event would have an entirely new slew of restaurants and libations.
So many chefs, restaurants, panels, demonstrations, wine and hard liquor purveyors were present that it was almost overwhelming. There had to be a game plan of attack. Showing up on time was key because the lines were long, and items would eventually run out if you didn't make it to that booth. I felt like I was watching "Top Chef" on crack: Chefs scurrying to replete and get samples out to the throngs of hungry and excited guests.
Some of the stand-out dishes were Toca Madera's Sunday brunch serving Fried Chicken and Churro Waffles, and also, Korean Latkes and Vegan Pulled Pork for Dinner with a Twist. You immediately knew which places had something above and beyond simply by the long lines that curved and curved around their station. Tsujita LA Artisan Noodle Annex served their infamous ramen, while Prova Pizzeria was literally kneading the dough to make fresh pizzas in their signature portable brick oven.
There were opportunities to talk to your favorite chefs because you literally would pass them going down the backlots of Brooklyn or the Upper East Side. They had a DJ spinning records from one of the balconies to crowds of people eating and dancing in the streets.
There was so much food to taste that you had to decide if you were going to go straight savory, sweet or a mix of both. About halfway through each event I needed to tap out because my stomach had reached its capacity, until I turned a corner and absolutely had to try what was in front of me. Masses of people were drinking their mint/lime tequila refreshments or Kirin Ichiban frozen beer, which helped during the day when the sun was beaming directly down. Although getting to try the liquid nitrogen meringues from Superba Food + Bread, nicknamed the Dragon, was a blast. You blew smoke out of your nose as you moved the meringue around your mouth.
If you were lucky enough to have gone this past weekend, you now know what it means to have all your senses brought to life. There were plenty of food-themed photo booths around to give lasting memories and samples to take home. Not like I personally needed something nostalgic to pull me back next year, the food stood on its own! Looking forward to 2016.
Video Slider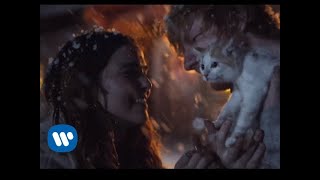 Win Tickets to See Ed Sheeran at the Rose Bowl
Ed Sheeran is back in Los Angeles, and your chance to see him perform is at the Rose Bowl in Pasadena on Saturday, Aug. 18. We are giving away complimentary tickets to the show. For a chance to enter to win, email us at
[email protected]
with "Ed Sheeran" in the subject line and tell us why you would like to go.