A Food and Cultural Extravaganza at LuckyRice 2018
The historic church of Saint Vibiana in downtown L.A. was erected in 1876 and for over 100 years was the cathedral and parish of the Roman Catholic Archdiocese of Los Angeles. After the 1994 Northridge earthquake, which caused extensive damage to the buildings, including to its iconic bell tower, the Archdiocese decided to demolish the structures on site but was stopped by conservationists and the City of Los Angeles. A deal was struck between all parties in which a much larger parcel of land next to the 101 Fwy was given over to the church in trade, where it built the new, modern Cathedral of Our Lady of the Angels which opened in 2002.
In 1999, the city sold the buildings to developer Tom Gilmore who took on a $4.6 million upgrade and restoration which turned the compound into an events venue. In 2005 it opened under the name Vivibana which also houses the elegant Rebird restaurant.
It was in this gorgeous venue that the 9th annual LuckyRice food festival was held on July 26th from 7:00-10:00pm with this year's theme "Breaking Bao: Intergenerational Asian Culinary Experience", hosted by the world famous Chef Susur Lee. Held in the interior main space, the packed crowd was treated to multiple foods and liquor stands from multiple Asian countries.
My first tasting for the evening was from the Chinese Laundry Truck stand, headed by Chef Leo Lamprides, where they were serving samples of their Chinese Seafood Risotto made with Abrorio rice congee, whipped seafood and tofu cream mousse, house-seasoned fish crumble ginger and herbs. An interesting fusion of Asian and Italian, that was light and delicious.
Second on my tasting trek was the out of this world kimchi pancake "tacos" by PARKS BBQ, headed by Chef Ryan, which were served with either delectable and light shrimps or succulent, moist and spicy pork bulgogi. Needless to say I made several trips ahead of what was the evening's longest line.
To quench my thirst, I made a stop at the Suntory Whisky stand which had caught my eye as I had tasted their smooth and sophisticated Toki brand at the BALEEN Kitchen restaurant re-opening located at Portofino Hotel & Marina event on July 11th. I was told by their representative that this is a blend of whiskies aged in casks made of different types of wood, which explains its very approachable, sweet, smooth taste and aroma that has a hint citrus.
Given the evening's theme, I had to stop at the stand of BLING BLING DUMPLING, headed by Chef Anne Chin and Chef Cindy Pao for their Taiwanese-style Pork Belly Bao. For those who do not know, Bao or Baozi, is a type of bun made of yeast that is filled with various meat or vegetable fillings, in this case a delicious, light, succulent, pork belly that was full of flavor.
Another highlight of the evening was the Smoke Duck and leek salad at the KATO stand, headed by Chef Jonathan Yao, who was voted one of 2018 Food & Wine Best New Chefs. This very light, delicious and sweet dish had me coming back for several helpings.
All in all, a sensational, gastronomical evening made possible by the people at Lucky Rice who also donated a portion of the proceeds their official, non-profit partner, Project Origami Inc. whose aim is to "spreads cultural awareness by teaching and providing methods of implementing the Asian art form to individuals and organizations". They also planned to donate all excess prepared foods Chefs to End Hunger whose goal is "to provide meals to the hungry by redistributing the excess prepared food that would normally go to waste in hotels, restaurants, and other foodservice operations to local food agencies to serve the meals". This type of event is worthy of multiple bows, your support and hopefully another delicious encore next year!
Video Slider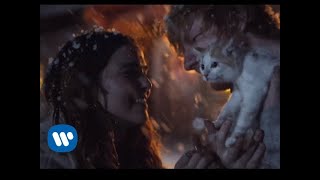 Win Tickets to See Ed Sheeran at the Rose Bowl
Ed Sheeran is back in Los Angeles, and your chance to see him perform is at the Rose Bowl in Pasadena on Saturday, Aug. 18. We are giving away complimentary tickets to the show. For a chance to enter to win, email us at
[email protected]
with "Ed Sheeran" in the subject line and tell us why you would like to go.