A Final Recap of Los Angeles Food & Wine Festival 2015
The fifth-annual Los Angeles Food & Wine Festival was a great success. (Bradford Snow/LOL-LA)
The ultimate weekend of food, wine and fun has come and gone, and our bellies are still feeling it. With so many options it's hard to nail down what was the highlight, but the team behind the event made sure that everything was done to the nines.
Special tastings with world famous chefs were peppered throughout the City of Angels to make sure each section of town had local options. This event really brought a chance for the city to show off its diversity in several different ways that you don't normally get with a food and wine event.
Shutting down Grand Street in front of the Walt Disney Concert Hall was probably the best idea that's come across in a while. Being able to enjoy the night and sample hundreds of wines and food selections almost made you feel like you weren't in town.
The neat thing about the L.A. F&W event is that it takes out the pretentiousness that comes along with the title. When you hear wine in an event, most people think, "stuffy" or "stuck up." Well, this festival dispelled all that in one fell swoop. The mix of attendees was all over the place. You had professionals, hipsters, tourists, families and couples on dates, culinary elite and those just looking to explore their palate. Not to mention the music was being supplied by Mike D from the Beastie Boys and the Roots over the weekend.
When this event returns next year for its sixth go around it's well worth the price of admission to any of the tastings. You are presented with the finest wines, liquor, beers, dinners, deserts and all sorts of giveaways. It's a chance for the vendors to show off, and who doesn't like to have a world-renowned chef try to win you over?
Recipes won't be given out, but they will tell you how to try to make your own dish. It's part of what makes this gathering so much fun. You can peel back the curtain and actually chat with the chefs that are revolutionizing the way we eat and drink.
A perfectly smooth event, great people, even better food. The only thing that sucks is it's only once a year!
Video Slider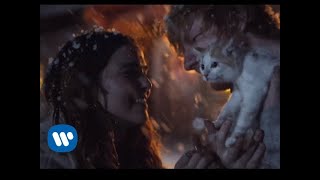 Win Tickets to See Ed Sheeran at the Rose Bowl
Ed Sheeran is back in Los Angeles, and your chance to see him perform is at the Rose Bowl in Pasadena on Saturday, Aug. 18. We are giving away complimentary tickets to the show. For a chance to enter to win, email us at
[email protected]
with "Ed Sheeran" in the subject line and tell us why you would like to go.