A Chat with L.A. Music Artist Erica Chase
Up-and-coming music artist Erica Chase has many inspiring tales to tell.
Sometimes the entire course of your life can change in the blink of an eye. Rising artist Erica Chase didn't take the easy path when she decided to dive into the music industry. Music was something she always enjoyed, but one drastic incident changed her life forever. Now she is calling the shots in her own musical career.
After spending time developing her own unique vocals, Chase is ready to face the music world in full force. She takes her inspiration from a diverse range of talented artists, from the Beatles and Sheryl Crow to Motown and the current Top 40. Her signature sound is a combination of vintage influences and the pop sounds of today. A triumphant story of passion and courage has led up-and-coming artist Chase to be where she is today.
In an exclusive interview with Living Out Loud – Los Angeles, she chats about her sound and the future of her music.
Chase tells us that her love for music started at an early age, but it later became a passion from the heart.
"All throughout my youth and teenage years, I was obsessed with the guitar, writing songs, playing in a band and all that, but really the moment that was sort of my 'aha' moment where I knew I had to make music and it was something I wanted to do was when I got into an accident in college and I was hit by a truck on my bicycle," she shares. "It was the day after I spoke to Dana Strum, who would become my longtime manager."
She also discusses that it wasn't easy to get involved in the music industry.
"It was something I wanted to do, but I just didn't know how to go about it because so many people are afraid to take the chance and follow their passion, you get stuck in trying to appear to everyone else in doing things you think you should do instead of things you must do," she says.
When asked about her favorite music artists and people she would want to work with, Chase says that she's completely obsessed with the Beatles.
"I'm always going to be a lifelong fan of the Beatles, and they're just in a league of their own. Along with them, I'm a huge fan of Bruce Springsteen, Fleetwood Mac, Radiohead and Ed Sheeran," she offers. "I'd love to collaborate with Ed Sheeran, I think he's a phenomenal singer and songwriter. We can write some really good songs together, and we would look cute next to each other."
Chase stars touring at the beginning of next year.
With her passion and positive outlook on life, we are excited to see what's in store for Erica Chase's future in music and any other path she decides to explore.
For more information, visit ericachase.com.
Video Slider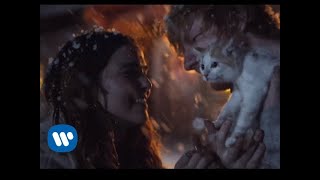 Win Tickets to See Ed Sheeran at the Rose Bowl
Ed Sheeran is back in Los Angeles, and your chance to see him perform is at the Rose Bowl in Pasadena on Saturday, Aug. 18. We are giving away complimentary tickets to the show. For a chance to enter to win, email us at
[email protected]
with "Ed Sheeran" in the subject line and tell us why you would like to go.