5 Reasons Why Pitbull, Enrique Iglesias, J Balvin Show Is A Must-See
Pitbull performs in October of 2014 at STAPLES Center in Los Angeles. (Photos courtesy of STAPLES Center/Aaron Poole, Bernstein Associates Photography)
BAKERSFIELD, Calif. —The Enrique Iglesias, Pitbull and J Balvin tour has been an immense success since 2014.
There have been performances in various cities during the tour, tons of sellouts, and countless fans dancing to the beat of the Spanish heartthrob, Mr. Worldwide and newcomer J Balvin. By virtually all accounts, the most difficult thing for fans to do on this tour is to stay in their seats (And who could blame them?).
That's why it's no surprise a second leg was added to the tour late in 2014, which began Jan. 28 in El Paso, Texas, stopped by last night (Feb. 12) at Rabobank Arena in Bakersfield, Calif. and continues tonight at STAPLES Center in Los Angeles.
Here are a prominent five reasons why this concert, put on together by AEG Live, is a must-see.
Fans Can't Sit Down
Regardless if it's J Balvin, Enrique Iglesias or Pitbull performing on stage, fans just can't sit down. Literally, from beginning to end, the entire sold-out Rabobank Arena stood with joy, pride and absolute excitement singing and dancing to the majority of the tunes. J Balvin's reggaeton swagger completely turned the house into a roaring scene, Enrique Iglesias' catchy repertoire thrilled everyone (including teenagers and some kids present), and Pitbull's peppy demeanor influenced the thousands in attendance.
I'd say that the majority of the women wearing heels didn't sit down at all and that, at times, can be painful. But still, the last thing you want to do is sit down! And even with comfy seats, who would want to sit down when you have three of the best Latino performers in front of you?

Has A Little Something for Everyone
As much as the tour has been lauded for its high-energy and party atmosphere, there really is a little something for everyone on this tour. Both Pitbull and Enrique Iglesias are artists who have pushed the envelope in their respective careers, and as s result, their hits range from romantic ballads, to dance club staples, to Latino party anthems enjoyed by all. And J Balvin is a perfection addition to that because his reggaeton, despite considered an urban music style, contains a lot of personal, yet romantic lyrics of him. And that's, without a doubt, a plus!
Newcomer J Balvin
By now you've heard of him, but outside of this tour, few in the United States have seen him do his thing on stage. His hit single, "Ay Vamos," a break-up-to-make-up reggaeton ballad has over 223 million hits on YouTube, and blends in perfectly with all the hits of Pitbull and Enrique Iglesias. J Balvin is a guy you won't wanna sleep on.
The 29-year-old Colombian has been in the scene for a long time, but this is his first time on a tour of this magnitude. Quite frankly, J Balvin is the best thing that's happened to reggaeton (and Latino urban music for that matter) since reggaeton itself became a mainstream success in 2004. "Ay Vamos," "6 AM" and "Yo Te Lo Dije" were his much-awaited songs on the night'
Hit Song and Remarkable Musical Repertoire from Enrique Iglesias
It's crazy to think this guy was once just regarded as the son of the legendary Spanish singer Julio Iglesias; a kid who few expected to hear much from years down the road. But since the late 90s, Enrique Iglesias is all grown up and has become an entity of his own.
Now, nearly 20 years later at the age of 39, it's tough to find someone with his eclectic musical repertoire, career longevity and who has the gravitas to dish out hit after hit in both English and Spanish (only Shakira and Ricky Martin, among others, are in this megastar category). This tour encapsulates that, especially with the presence of his hit song "Bailando," classic track "Bailamos" and many other memorable pieces, such as "Nunca Te Olvidaré."
Energy of Pitbull
Mr. Worldwide has been everywhere! From his performances on major world tours, to mega music festivals and even his performance at the 2014 FIFA World Cup, there is a demand for Pitbull everywhere – and for a darn good reason. Beyond his incredible musical talent, his energy is what makes him such a unique live performer. Regardless of which city he is in, Pitbull brings his energy everywhere, treats everyone as equals and makes you feel like he's happy you're there seeing him. He can make an arena of 20,000 in any city feel intimate, but he can also change things up and put you right in the middle of a carnaval. And Pitbull did just that with "Fireball," "Give Me Everything" and "Bon, Bon."
As much as any of these five reasons are great reasons to watch Pitbull, Enrique Iglesias and J Balvin in concert, you have to catch these guys and see for yourself why this concert is a can't-miss.
The tour comes to STAPLES Center tonight in downtown Los Angeles, tomorrow (Feb. 14) at Oracle Arena in Oakland, Feb. 17 at Pepsi Center in Denver, Feb. 19 at Target Center in Minneapolis, Minn., and Feb. 20 at Allstate Arena in Rosemont, Ill.
Video Slider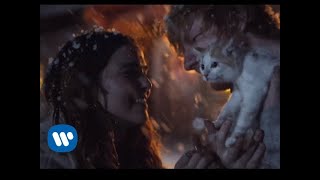 Win Tickets to See Ed Sheeran at the Rose Bowl
Ed Sheeran is back in Los Angeles, and your chance to see him perform is at the Rose Bowl in Pasadena on Saturday, Aug. 18. We are giving away complimentary tickets to the show. For a chance to enter to win, email us at
[email protected]
with "Ed Sheeran" in the subject line and tell us why you would like to go.