5 Reasons We Love Laura Pausini
Italian singer and songwriter Laura Pausini (Courtesy of Christopher Logan)
Italian pop music singer-songwriter Laura Pausini definitely is quite the treat to see perform live on stage; and such was the case Friday (Aug. 5) during her packed concert at Microsoft Theatre in downtown Los Angeles.
The show, put together by AEG Live Latino, was part of her much-awaited "Simili World Tour 2016" – one that's attracted thousands and thousands in attendance from city to city.
Over the years, Pausini has accomplished several feats. She's known as the queen of Italian pop, but Pausini also has cemented herself to being a true successful music artist throughout the world; she's an international pop sensation. And this is especially true within Latin America and all over the U.S., particularly L.A. – a place that loves and respects her, deeply.
Here are five reasons we love Laura Pausini:
Fashion / Style
Pausini was born in Faenza, Italy. By nature, she's rather stylish when it comes to fashion. During her L.A. performance, Pausini managed to changed outfits many times. Two of our favorites came to be the metallic forest green gown and the luminously elegant black dress; she sported both with a spark and gorgeous flair. She looked beyond beautiful with her unique attire.
Humble Ways
Despite Pausini's immense success, she manages to stay more humble than ever before. At various times during the concert, the 42-year-old beauty constantly thanked her fans for the ongoing support, particularly to those who have followed her career ever since its inception in the early 1990s. Every time she showed gratitude, the thousands in attendance loudly cheered and applauded her while smiling with a great deal of respect and emotion towards her.
Vocals in Spanish
Surprisingly, Pausini hasn't fully done any crossover to the English language in terms of singing and songwriting. Yet, she's sold over 70 million albums worldwide, which is a solidly amazing task in itself. Her bread and butter, oftentimes, are her vocals in Spanish. I mean, she's just so darn prolific in them. Prime examples of this lie within "Entre tu y mil mares", "La soledad" and "Víveme", among many others. Her vocals, while nothing less than pleasant, are enthralling and soothing.
Duets
Miguel Bose, Juanes, Eros Ramazzotti, Andrea Bocelli, Tiziano Ferro, James Blunt, Charles Aznavour and Kylie Minogue are just some of the names she's done duets with. As expected, to some degree, she brought out special guests while singing in L.A. Latin pop and regional Mexican singer Chiquis Rivera appeared to delivered a special duet alongside Pausini with "La Soledad"; the crowd loved it. Pausini also invited singer, songwriter and composer Mario Domm (lead singer of Mexican pop music act Camila) to render a touching delivery of "Víveme"; the people present adored it.
"Víveme"
Pausini carries tons of hits in her musical repertoire, but none are perhaps bigger in popularity in success than "Víveme", released in 2004. It was also the theme song in the Mexican telenovela dubbed "La Madrastra". In 2013, Pausini released a duet of the song with Spanish stud Alejandro Sanz. Anywhere you are, anywhere you go, you know of "Víveme". It's sort of a touching global anthem.
Video Slider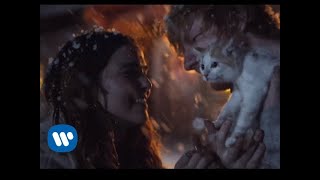 Win Tickets to See Ed Sheeran at the Rose Bowl
Ed Sheeran is back in Los Angeles, and your chance to see him perform is at the Rose Bowl in Pasadena on Saturday, Aug. 18. We are giving away complimentary tickets to the show. For a chance to enter to win, email us at
[email protected]
with "Ed Sheeran" in the subject line and tell us why you would like to go.